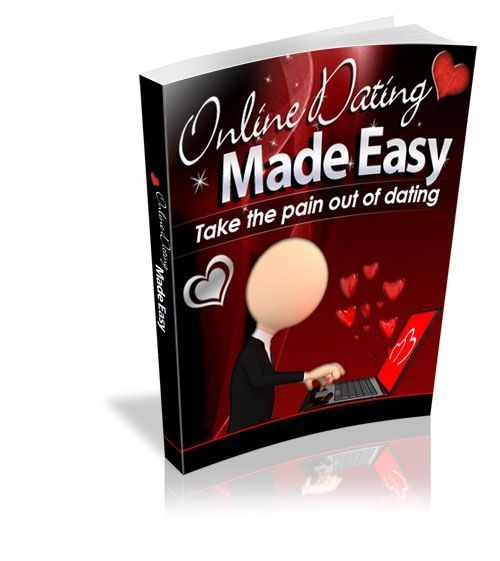 Online Dating Made Easy: Take The Pain Out Of Dating
Over 40 million people have tried online dating with approximately 17% of marriages per year consisting of couples who met through an online dating site ...and

There are over 54 million single people in the United States alone

Whether you are male or female, online dating might be the best option for you since 52.4% of online dating users are male and 47.8% are female. And looks are not everything since 64% of those using online dating feel that common interests are the most important factor for them. If you are looking to meet somebody and get to know them without wasting countless time and energy finding somebody who may only let you down, online dating offers another quicker and more efficient method.

"Find That Special Someone Through Online Dating By Learning The Effective And Safe Way To Join The Millions Of Others That Have Met The One Who Has Changed Their Life Forever"

With "Online Dating Made Easy" you will discover exactly what men and women online are looking for in a relationship and how you can attract the person that is best for you while avoiding those who are not.

Our eBook is packed full of crucial information for your online dating adventure, including:

*What you need to know about online dating before you get started

*What makes online dating different and more beneficial than meeting someone offline

*Everything you need to know to get going today

*How to honestly and effectively present yourself to attract the right match for you

*Tips on how to let an online relationship blossom into something wonderful

*Strategies for learning about the other person and sharing information about yourself

*Guidelines on meeting in person for offline dating in a safe and productive manner

*Avoiding liars and other types of people you do not want to waste your time with

*And much, much more!


Your License:

Personal Use Only. It can not be re-sold.


Note:

This product comes with NO warranty or guarantee of any kind.

The author and distributor hereby disclaim all liability for the use of this product. You accept all responsibility by using/selling it.


P.S. You've got nothing to lose in this investment. You will only miss 100% of the shots you don't take. Don't make the same mistake of those who
close this page and miss out on a tremendous opportunity!

You'll get a 986.5KB .PDF file.
More products from Smart Life Skills