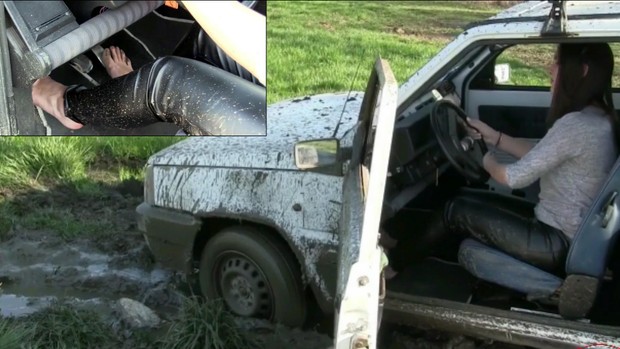 148 : Miss Iris and the mud mess
Miss Iris is lost in the country !

She doesn't know where she is, and she is looking around trying to find a major road, but she finds nothing.

While she is driving around with her Panda, trying to understand where she is, she gets stuck! She was stressed yet because she is lost, now that she has to worry about the unstuck too, she is completely stressed out!

She starts pumping slowly the pedals, trying to get unstuck the quickest possible, but shortly after she understands that without a vigorous pumping the little Panda will not get free again!

She pumps so hard that she gets in a puddle, so all the mud goes over Iris and the Panda!

She can't believe this is happening to her, she wants to go home and relax, but she is stuck in a puddle with the Panda!

She removes her heels because the shoes are so dirty, and she takes off also her socks, and she keep on pumping  the pedals harder, but the Panda won't move from there!

Will she gets unstuck? Or will she leave the Panda there?

MULTIPLE ANGLES VIEWS FOR YOU TO ENJOY THE MUD MESS !!

You'll get 1 file (832.5MB)