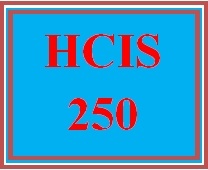 Entire Course Link https://zh.scribd.com/document/340327850/Uop-Tutorial
Entire Course Link
https://zh.scribd.com/document/340327850/Uop-Tutorial
HCIS 250 Week 1 PrimeSUITE® Registration Instructions 
Resource: Accessing McGraw-Hill Connect Account
Complete the PrimeSUITE® Registration Instructions Worksheet.
Click the Assignment Files tab to submit your worksheet.
PrimeSUITE® Registration Instructions 
In this course you will be required to use Connect (a McGraw Hill online learning environment) to complete the assigned weekly PrimeSUITE® assignments. Complete the instructions below to successfully gain access to Connect. 
Resource: McGraw-Hill Connect Account Set Up and Help 
To access Connect, click the Practice/Simulation/Homework/Game tab located in the PrimeSUITE® Registration Instructions assignment. 
After clicking on the Practice/Simulation/Homework/Game tab, follow the instructions given to create an account. 
Once you have successfully gained access to Connect, complete PrimeSUITE® exercise 3.1 "The Patient Information Screen" in Demo mode.
Take a screenshot showing that you completed the demo.
To take a screenshot, follow these directions:   
Press Alt + Print Screen on your computer keyboard to create a screenshot.  
Paste the screenshot to the assigned area below by pressing Ctrl + V on your keyboard to paste the screenshot.  
Save the worksheet to your computer.  
Submit the completed worksheet by clicking the Assignment Files tab.  
You'll get a 323.5KB .DOC file.
More products from UopTutorials