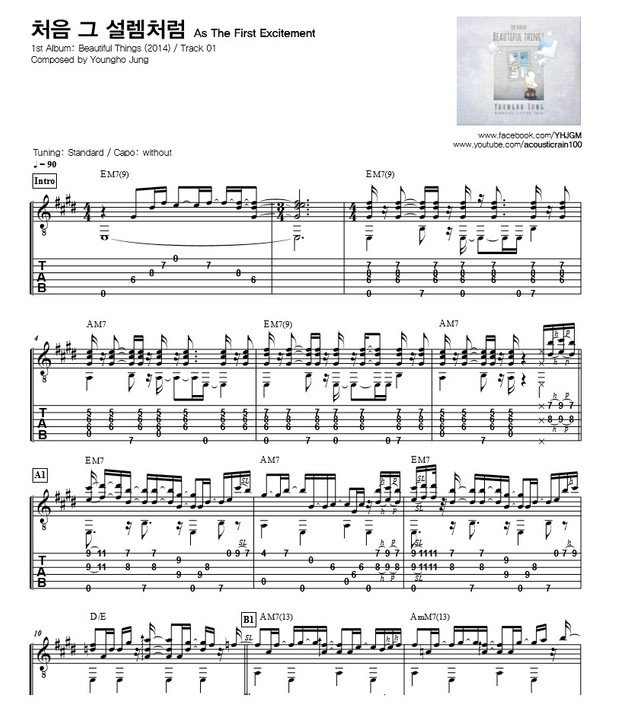 01 As The First Excitement
처음 그 설렘처럼 As The First Excitement

Album: Beautiful Things(2014)
Track: 1
Time: 04:22
Composer: Youngho Jung
Tuning: Standard, capo without. (Key: E Major)
Record: Mic Guitar:
Goodall TROMC #4218(2005)

평소 꿈에 그리던 굿얼(Goodall)이라는 브랜드의 기타를 2013년 5월 초에 구입하게 되었습니다. 2년간 조금씩 모은 돈을 한번에 다 써버리기는 했지만, 그래도 행복하고 기쁘더군요. 마치 대학교에 들어가서 처음으로 기타를 잡았을 때 느꼈던 기쁨과 설렘처럼 원하던 기타를 연주하니 마냥 좋기만 했고, 그 느낌을 담아 만들었던 곡입니다.

I had always dreamed of the guitars built by James Goodall, and managed to get one in May 2013. I was just happy and excited though I spent all the money at once which I had saved for 2 years. It was really a cool thing to play the guitar I had dreamt of, and I felt a similar feeling that I had felt when I first played a guitar at a college, a kind of... happiness, excitement. So I wished to express that feeling.
You'll get 1 file (1.8MB)
More products from huks