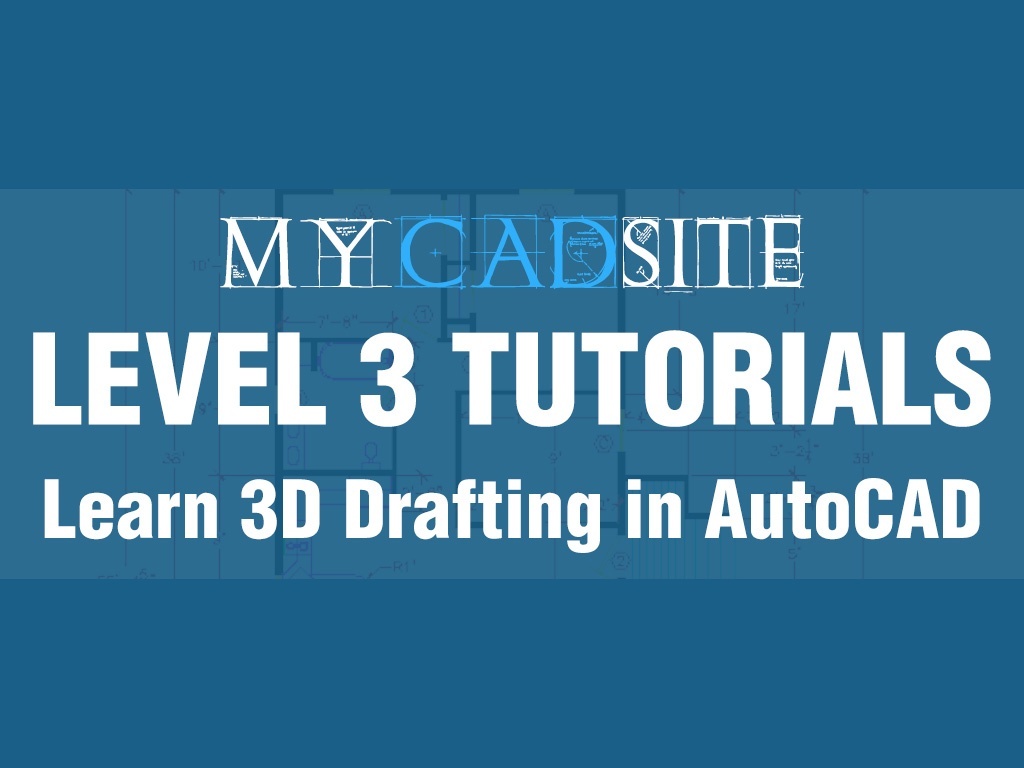 AutoCAD Tutorials from myCADsite.com - LEVEL 3 ONLY - 18 Tutorials, 18 Videos
Download the LEVEL 3 tutorials and videos from
myCADsite.com
. 
This is a great set of tutorials that will teach you how to draft in 3D as well as add materials, render and light your scene.  It is recommended for AutoCAD users who have a good knowledge of drawing and modifying.
Each tutorial includes a lesson, video and quiz.  A quiz for the entire level is included for review (as well as the other 3 levels).
Tutorials List:
LESSON 3-1
INTRODUCTION TO 3-D (Terminology)
LESSON 3-2
ISOMETRIC DRAWING IN AUTOCAD
LESSON 3-3
WORKING IN 3 DIMENSIONS (X,Y,Z Axes, 3D Rotation)
LESSON 3-4
VIEWING 3-D OBJECTS (Perspective Views, 3D Orbit, DView)
LESSON 3-5
BASIC WIREFRAME MODELS
LESSON 3-6
LINE THICKNESS
LESSON 3-7
REGIONS AND 3-D FACES AND EXTRUDING
LESSON 3-7a
MORE ABOUT EXTRUDING & LOFTING
LESSON 3-8
REVOLVED OBJECTS - REVSURF AND REVOLVE
LESSON 3-9
ADDING MATERIALS IN AUTOCAD
LESSON 3-10
PRIMITIVE SOLIDS
LESSON 3-11
BOOLEAN OPERATIONS AND 3D EDITING
LESSON 3-12
CHANGING FROM THE WCS TO THE UCS
LESSON 3-13
MAPPING MATERIALS
LESSON 3-14
CREATING NEW MATERIALS
LESSON 3-15
EXTRA PROJECTS AND A TUTORIAL
LESSON 3-16
PUTTING IT ALL TOGETHER - MODEL A BUILDING
LESSON 3-17
INTRODUCTION TO RENDERING AND LIGHTING IN AUTOCAD

LESSON 3-18
CREATING ANIMATIONS IN AUTOCAD

You'll get a 440.6MB .ZIP file.
I want to get 10% off
You will receive a 10% discount if you share this product on social media. The discount will be automatically applied to your purchase.
Tweet
Looks like you are using AdBlock. And it's blocking the social sharing functionality on this page. To receive the discount, please disable AdBlock on Sellfy.
I'd rather pay the full price
Buy Now
Purchase the product without sharing it on social media. Your download will begin immediately after payment.