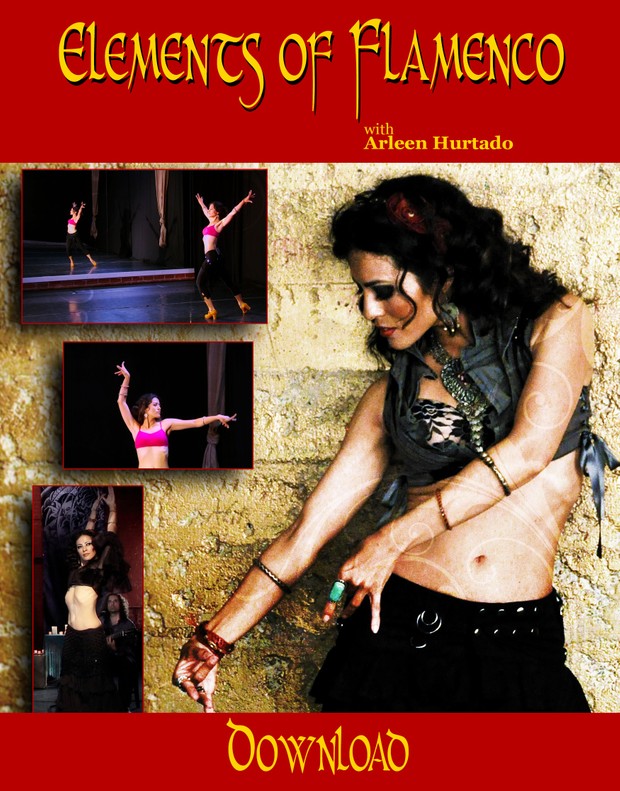 Elements of Flamenco (video) with Arleen Hurtado
ELEMENTS OF FLAMENCO
(download in .m4v format - 924 MB 48:34 minutes - readable with itunes or quicktime player)
A focus on hands, arms, upper body movement and footwork
fundamentals with Arleen Hurtado
Arleen Hurtado has over twenty years professional flamenco dance
experience; performing in some of the finest theaters around the world.
Elements of Flamenco with Arleen Hurtado will help dance students
learn fundamental flamenco dance techniques that include
arms, hands, footwork and rhythm.
The DVD begins with a short warmup designed to gain more flexibility for arm and hand technique and increase leg strength for the footwork sections that follow.
A section on 'palmas', rhythmic flamenco clapping, will help students practice these techniques alone or with a friend. Arleen teaches feminine body movement and line, traveling steps and flamenco style that will strengthen your posture and prepare you for the combination sections .
Arleen concludes the technique section with a challenging series of footwork drills that if done regularly will strengthen your legs, increase stamina and sharpen your rhythmic skills.
In the combination section, Arleen demonstrates 5 combinations that together make a short Tangos choreography. The choreography integrates the techniques learned earlier in the program.
The DVD also includes three bonus performances by Arleen with musicians Benjamin Woods and Mike Bennett.
Produced by Arleen Hurtado and Alexandre Magno
Music by Benjamin Woods
Cover photo by Kelley Parker
© 2012 Arleen Hurtado. All Rights Reserved.
www.ArleenHurtado.com
You'll get 1 file (924.0MB)