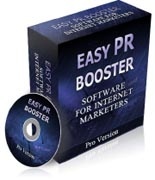 Easy PR Booster
Attention:  Discover How You Can Easily Boost PR On Pages Throughout Your Sites With An Advanced Linking System!

"Effortlessly Optimize Your Sites Linking Structure To Send The Search Engines Wild, Devouring All of Your Page and Giving Them Prime Search Rankings!"
Give Your Sites The Edge Needed To Beat Out Millions of Other Pages With A Few Simple Tweaks To Your Links!

Here's The Full Range of Benefits You Get:
  Precisely manages your links to ensure sure your linking structure is optimized to increase your search engine results!  More search spiders and higher PR on the right pages await!

  Allows you to easily monitor how and where your links are posted throughout your network of sites!  If you have a lot sites, then it can be impossible to keep track of all your links, let alone keeping them in order!

  Increases your traffic because your links remain visible throughout your entire network of sites!  Increase traffic to the most important pages on your sites that bring in the most revenue!

  Accurately distributes PR to the right pages for a likely boost in your search rankings!  If your pages aren't connected in the right way, they're going to fail to get the results they easily could.

  Displays links horizontally or vertically to fit into your pages perfectly.  You have full flexibility to fit your links wherever you want inside your pages to increase your clickthrough rates! 

  Allows you to input the right anchor text for your links to increase your search engine results.  Having the right text on your links is a HUGE factor in getting rankings for the terms you want!

  Manages your links easily with the ability to add or remove links at any time and your pages update automatically.  You don't have to manually change hundreds or thousands of links, but you can do it in a central location fast!

  Plus, much more!
You'll get a 2.4MB .ZIP file.
More products from BestBuy Digital