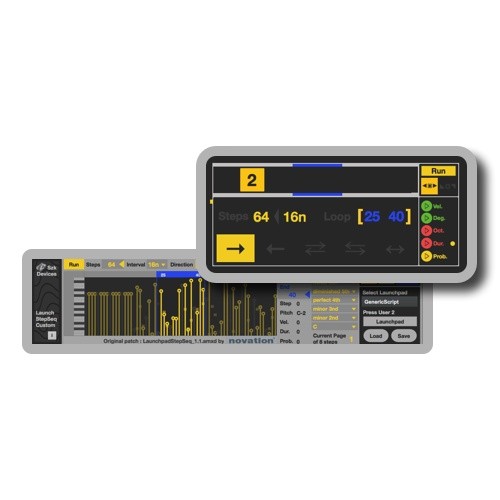 M4L szk.LAUNCHSTEP.amxd
Launchstep is a free customization of the original patch LaunchpadStepSeq_1.1.amxd by NOVATION. It conserves the original functionalities and adds new features :
• General design has been updated (size, colors, menu items).
• Floating window allows you to quickly monitor the sequencer state. It reproduces the current page of 8 steps being played, the number of steps, the current loop, the selected mode.
• Loop start / end position numboxes are available for MIDI mapping. Braces switch to yellow to help visualization when values reach the begining / end of 8 steps.
• A "Follow Page" mode has been added. When selected, it allows your Launchpad to follow the current page of 8 steps being played. Leds will be updated at each page's changement.
Please refer to the original patch for more details.
https://novationmusic.fr/launch/launchpad-mini/support-downloads
This device has been made with the first Launchpad and hasn't been tested with recent version of this hardware. 
Compatibility :
Live 9+
Max 7+
More information ? Want to leave feedback ?
Please visit
http://m4l.szk.fr
You'll get 1 file (225.1KB)
More products from szkdevices