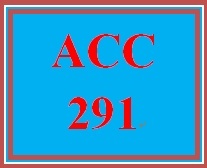 ACC 291 Week 2 Similar to Problem 9-8A
Entire Course Link
https://zh.scribd.com/document/340327850/Uop-Tutorial
 ACC 291 Week 2 Similar to Problem 9-8A 
Watch the "Similar to Problem 9-8A" video located in the Week 2 Video Assignments in WileyPLUS. 
Consider the following as you view:   
The matching principle requires expenses be matched with revenues, and in the accounting period, the effort is made to generate those revenues. However, unlike general operating expenses, plant assets cost is generally not expensed in a single accounting period, but rather over the estimated useful life of the asset.  
The choice of method used to account for plant assets will impact net income. In this video, you will learn how to apply these methods using the straight-line, double declining balance and units of production. As you watch this video, please reflect on the process the instructor uses to arrive at the answers and the various explanations provided in the video to help you understand why each step is taken.
You'll get a 30.0KB .DOC file.