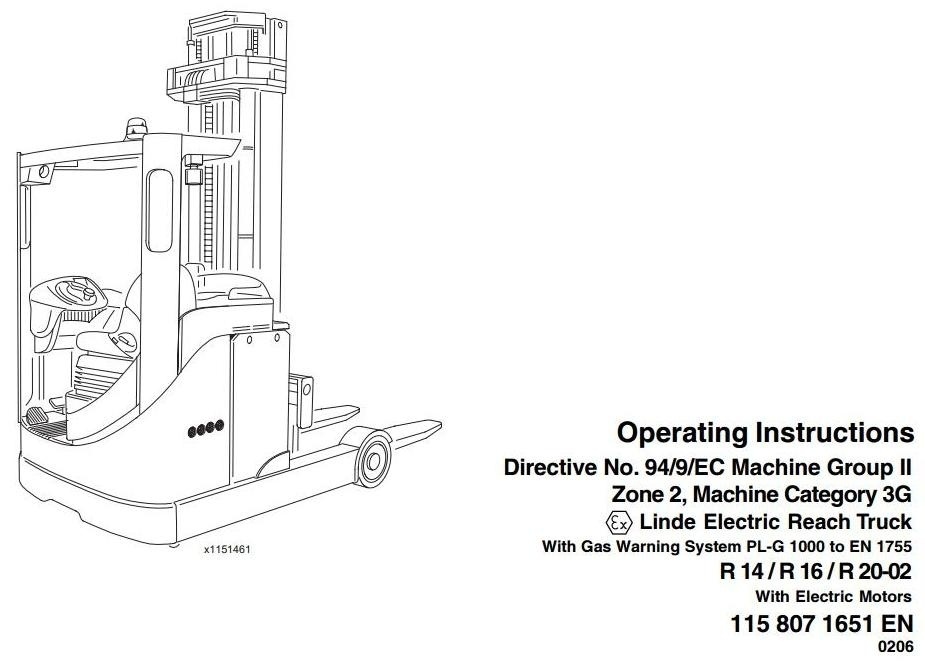 Linde Electric Reach Truck Type 115-02 Ex with PL-G1000: R14, R16, R20 Operating Instructions
Original Illustrated Factory Operating Instructions (User Manual) for Linde Electric Reach Truck Type 115-02 Ex with PL-G1000.

Original factory manuals for Linde Forklift Trucks, contains high quality images, circuit diagrams and instructions to help you to operate and repair your truck

Covered models:
R14-02 Ex PL-G1000
R16-02 Ex PL-G1000
R20-02 Ex PL-G1000

Format: PDF, 102 Pages
Language: English

Contents:

Foreword
Approved applications
Technical note
Truck takeover
Description
Type plates
Technical data
Technical description
Introduction
Operator's compartment and controls
Chassis
Drive and transmission
Electrical system
Steering
Mast, hydraulics and reach frame
Braking
Gas warning system
General view of truck
Operating controls and indicators - dual-pedal model
Operating controls and indicators - single-pedal model
Operator's display
Multi-purpose display
Hour meter for truck
Battery discharge indicator
Drive wheel position indicator
Overheating warning lights
Condition display
Brake fluid level warning light
Service warning light
Parking brake warning light
Battery unlocked warning light
Slow speed indicator
Composite instrument for gas warning system
Hour meter
Battery discharge indicator
Overheating warning lights
Traction motor overheating warning lights
Steering motor overheating warning light
Hydraulic valve overheating warning light
Traction controller overheating warning light
Lift controller overheating warning light
Brake overheating warning light
Lift motor overheating warning light
Beginning operation
Safety rules
Experts
Safety information
Handling fluids and lubricants
Safety inspection
Explosion protection check
Operation of industrial trucks in the plant area
Noise emission data
Frequency characteristic for human body vibrations
Running-in instructions
Daily checks and servicesbefore operation
Checks and services prior to initial operation of the truck
Daily checks
Check the condition for leakage resistance of the traction wheel
Open the motor compartment cover
Removing the floor plate
Opening the top cover
Checking state of battery charge
Charging the battery
Reaching the battery out
Connecting the battery (Version 1) to an external charger
Connect the version 2 battery (protected against accumulations of dust) to a suitable external battery charger
Check the battery condition, electrolyte level and specific gravity
Changing the battery (hoist method)
Changing the battery (roll on, roll off)
Steering column adjustment
Seat adjustments
Controls and their operation
Check the forks and fork quick-releases
Operation
Driving
Mounting and dismounting the truck
Starting on an incline
Dual-pedal model
Driving
Travel with the forks trailing
Travel with the forks leading
Change the direction of travel
Single-pedal model
Braking (dual-pedal model)
Regenerative traction brake
Hydraulic footbrake
Parking brake
Engaging the parking brake
Releasing the parking brake
Braking (single-pedal model)
Steering system
Steering
Central control lever (joystick) operation of mast and attachments
Raising the fork carriage
Lowering the fork carriage
Reaching the mast out
Reaching the mast back
Tilting the fork carriage forward
Tilting the fork carriage back
Operating the attachments
Operating the sideshift
Single control lever operation of mast and attachments
Operation of horn
Emergency isolator button
Before loading
Positioning the forks
Loading
Transporting a load
Unloading
Before leaving the truck
Fuses
Fuses (ancillary circuits)
Fuses (main circuit)
Slinging the truck
Wheel change
Jack locations when changing wheels
Emergency lower
Emergency steering and parking brake release
Towing instructions
Transporting the truck on a lorry or low-bed trailer
Hoisting the truck with a crane
Side guidance
Side guidance for drive-in racking
360° steering
Height preselector system
Initialising the system
Displaying the current selected zone
Selecting a new zone
Stacking a load
Destacking a load
Cancelling a selection/operation
Lift height indicator
Operation (shelf mode)
Stacking a load (shelf mode)
Destacking a load (shelf mode)
Operator code entry
Logging on
Logging off
Accessing supervisor menus
Changing the supervisor PIN
Disable/enable the truck
Adding/deleting operator PIN numbers
List operator PIN numbers
Set/reset learner operation
Truck Data Management (LFM)
Truck data acquisition
Condition code
Operation
Truck data acquisition - default setting (PIN number and condition code)
Truck data acquisition - special setting (PIN number)
Closed circuit television
Maintenance
Maintenance and safety guidelines
General information
Handling lubricants
Safety guidelines
Taking the truck out of operation
Measures before taking the truck out of operation
Putting the truck back into operation
Mast unit and reach frame
Work on the mast and the reach frame part of the truck
Mast removal
Securing the reach frame against reaching in or out
The mast
Securing the mast
Inspection and maintenance after the first 50 hours of operation
Inspection and maintenance chart
Inspection and maintenance as required
Clean the lift truck
Lubricate the lift chains and mast channels
Adjust the lift chains
Check the condition of the wheels and tyres
Check the insulation and leakage resistance
Renew/replace the hydraulic hoses
Check drive wheel nuts
Inspect and recalibrate the gas
warning system sensors
Inspect and recalibrate the gas
warning system
Clean the gas warning system sensors
1000-hour inspection and maintenance
Check and adjust the parking brake
Check the hydraulic hoses and pipes for damage
Check the mast and lift chains for condition and security
Lubricate the mast, mast rollers, lift chains and chain pulleys
Lubricate the reach channels and rollers
Lubricate the battery trolley slides and associated mechanism
Check the condition and security of motor and battery connectors and cables
Check the hydraulic oil level
Lubricate the fork carriage and sideshift slider pad
Check condition of side guide rollers
2000-hour inspection and maintenance
Check the brake fluid level
Check the traction motor brake band and load wheel shoes for wear and adjustment
Renew the hydraulic tank breather filter
5000-hour inspection and maintenance
Check condition of brake pipes
Grease the load wheelbearings
Change the hydraulic fluid
Renew the hydraulic return line filter
10000-hour or 5-year inspection and maintenance
Change the brake fluid
Inspection and maintenance data
Recommended lubricants
Hydraulic oil
Multipurpose grease
Gear oil
Steering drive gears
General purpose oil
Chain Spray
Brake fluid
Troubleshooting guide (hydraulic system)
Hydraulic system piping
Electric circuit diagram (standard equipment)
Electric circuit diagram (Gas warning system)
Index.
You'll get a 2.4MB .PDF file.