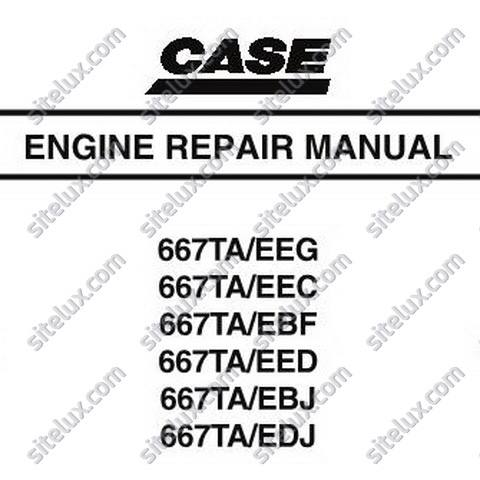 Case 667TA Engine Repair Manual
This complete service repair workshop manual PDF download for the Case 667TA,EEG,667TA,EEC,667TA,EBF,667TA,EED,667TA,EBJ,667TA,EDJ Engine has easy-to-read text sections with top quality diagrams, pictures and illustrations. The step by step instructions show you how to fault find or complete any repair or overhaul, correctly and efficiently, saving time and avoiding costly mistakes.


---

MANUAL SPECIFICATION :

File Format : PDF
Language : English
Printable : Yes
Searchable : Yes
Part Number : 87519803 NA
Total Pages : 150


---

APPLICABLE MODELS :

667TA/EEG
667TA/EEC
667TA/EBF
667TA/EED
667TA/EBJ
667TA/EDJ


---

TABLE OF CONTENTS :

CHAPTER 1
DIAGNOSTICS
TABLE OF CONTENTS
CNH- EST DIAGNOSTIC TOOL
TROUBLESHOOTING

CHAPTER 2
667TA ENGINE OVERHAUL
TABLE OF CONTENTS
ENGINES
CODING OF SOURCE ENGINES
ENGINE PROPERTIES
GENERAL ENGINE FEATURES
CRANK GEAR COMPONENTS AND CYLINDER ASSEMBLY
VALVE GEAR - CYLINDER ASSEMBLY
TORQUE SPECIFICATIONS
SPECIAL TOOLS
667TA ENGINES
DESCRIPTION OF MAIN ENGINE COMPONENTS
EGR EXHAUST GAS RECIRCULATION SYSTEM
ENGINE LUBRICATION
ENGINE COOLING
HIGH PRESSURE ELECTRONIC INJECTION SYSTEM (COMMON RAIL)
EDC7UC31 -ELECTRONIC CONTROL UNIT OPERATION
FUEL SUPPLY SYSTEM
COMMON RAIL
COMMON RAIL PRESSURE RELIEF VALVE
ELECTRO-INJECTOR
LOCATION OF THE MAIN ELECTRICAL COMPONENTS
CHECKING THE FUEL SYSTEM
ENGINE OVERHAUL ON THE BENCH
CHECKS AND SPECIFICATIONS ON ENGINE CRANKCASE
CRANKSHAFT
ENGINE FLYWHEEL
CYLINDER HEAD
VALVES
VALVE GUIDE
VALVE SEATS
VALVE SPRINGS
CYLINDER HEAD
RODS AND TAPPETS

CHAPTER 3
CHARGING AND START-UP
TABLE OF CONTENTS
STARTER MOTOR
ALTERNATOR
You'll get a 10.2MB .PDF file.