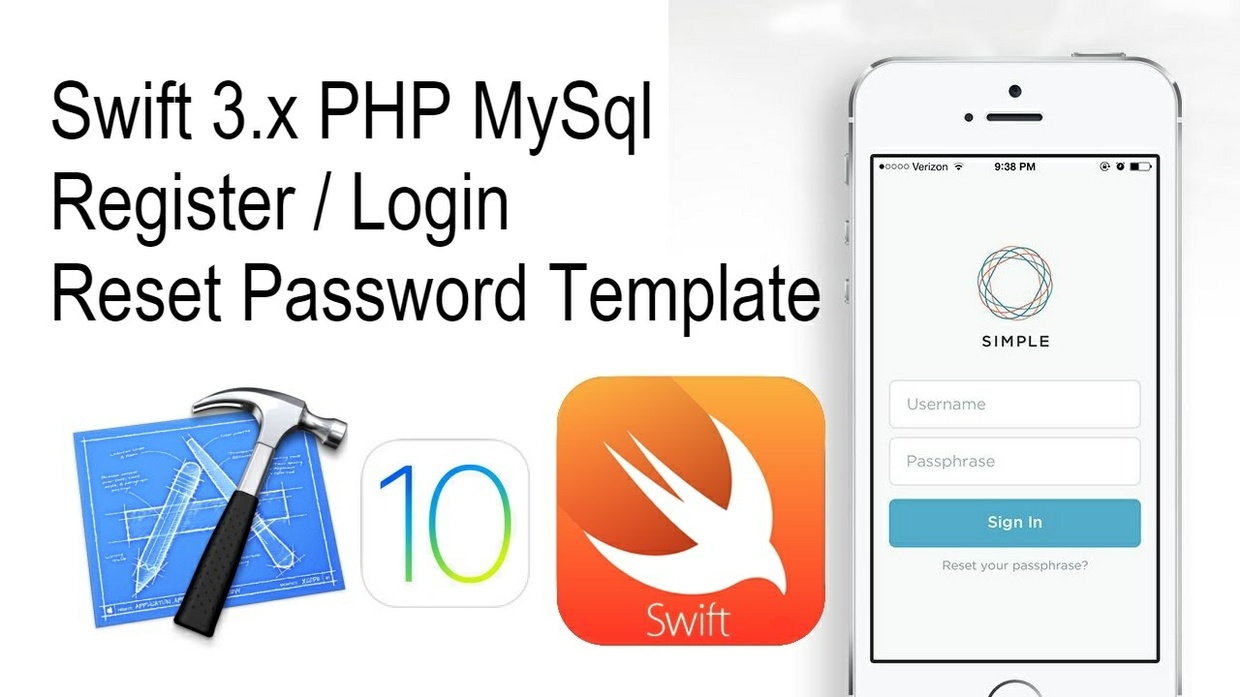 Swift 3 PHP MySql Register Login Forgot Password Template
Swift 3 PHP MySql - Login Register Forgot Password iOS template
Easily edit and do your own website to iOS Universal mobile App.Our app developed latest Xcode and support iOS10, iOS9 , iOS 8 with Swift 3, Swift 2 for All iPhone and iPad Devices.
This is a simple yet nice to do app fully coded using Swift 3. It allows the user to login, register, forgot password and logout into your PHP Mysql based server side app.
Almost every mobile application requires User Sign up, Login, Logout and Password reset functionality.
In this template you will get a fully functional examples that you can take and integrate into your Swift 3 mobile app.
Register API Code: 
https://sellfy.com/p/5jlR/
We have used Xcode development environment and Swift programming language to create.
Features


iPhone & iPad support: Works on any model of this family of devices.


iOS8, iOS9 and iOS10: Specially coded to work on the last OS major updates.


Flat design: It has a flat design matching current web design trends.?


Easy customization: Using the Storyboard, it is easy to change colors and fonts.


Use of Storyboard: In order to provide a visual reference and speed up development.


Clean & commented code: The code tries to be as basic as possible and there are comments on the most important parts.


Auto resize with all devices: The UI adapts itself using NSConstraints and shows or hides certain elements to fit all screens.


Animated: Certain elements are animated in order to bring a nice feeling on the app. 


Swift 3: Coded using Swift 3 to give you the latest update of the new programming language of Apple.


Download the documentation for free here:
https://www.slideshare.net/harshalone/base-register-login-forgot-password-swift-3-template
You'll get a 203.1KB .ZIP file.
More products from VSELL