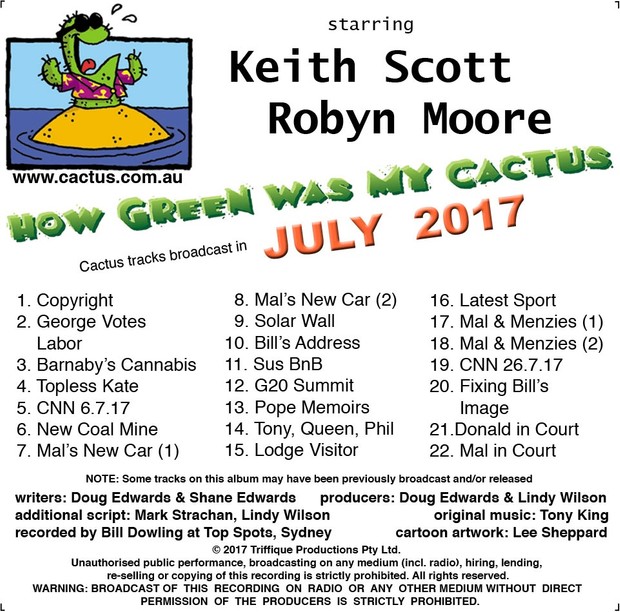 CACTUS - July 2017
DESCRIPTION
CACTUS - JULY 2017
TRACKS
1. Copyright: All material downloaded is copyright.Unauthorised public performance,broadcasting on any medium (including. radio),hiring,lending,re-selling or copying of this recording is strictly prohibited.All rights reserved. ©2016 Triffique Productions Pty Ltd
2. GEORGE VOTES LABOR: The big man of politics George Cumbersome has crossed the floor to vote with Labor. And not just because Anthony Albanese was waving donuts at him.
3. BARNABY'S CANNABIS: Deputy PM Barnaby Joh congratulates medical science on the important development of medical cannabis, even if science did get global warming completely wrong.
4. TOPLESS KATE: Kate the Duchess of Cambridge claims $2 million damages for being snapped topless. Judge Cranky's courtroom has seen some boobs in it's time but not like this.
5. CNN 6.7.17: Labor boss Bill Curly reveals Scam Dastyari's new nickname. He's called The Voice because his collegues constantly swing their chairs around to avoid looking at the idiot.
6. NEW COAL MINE: To prevent approval of a new coal mine, Green Party godfather Richard Corleone threatens to make Mal Talkbull sleep with the fishes by putting sardines in his bed.
7. MAL'S NEW CAR (1): Mal Talkbull buys a new car, a silent, driverless, battery powered Tesla Whispering Ghost. Tony Abs demands that someone carrying a red flag walk ahead of the Tesla.
8. MAL'S NEW CAR (2): Mal Talkbull takes his Liberal Party mates for a spin in his new, amazingly innovative Tesla car. Which is of course completely driverless, even with Mal at the wheel.
9. SOLAR WALL: President Donald Dump wants to cover his wall along the Mexican border with solar panels. He's seen them on houses and thinks they're very decorative.
10. BILL'S ADDRESS: Flopposition leader Bill Curly tries out his latest speech on his wife Chloe at their home, 13 Humdrum Way, Plopworth.
11. SUS B'n'B: Hey travellers! Sick of paying through the nose for hotels? You need Susware's amazing new accommodation idea, Sus B'n'B! London! Paris! New York! Wodonga! The lot!
12. G20 SUMMIT: Mal Talkbull recounts his adventures at the G20 summit, including his meeting with Vladimir Poothing, a man who looks like Mr Sheen's evil twin brother.
13. POPE MEMOIRS: Francis the Talking Pope talks to a bishop who can't return home to face police charges because the dog ate his passport. Well not all of it, he ran out of Nutella.
14. TONY, QUEEN, PHIL: Tony Abs begs Queen Bessie of Buckinghuge Palace to launch an armada to rescue his country from Mal Talkbull's evil 'sensible-centre' government.
15. LODGE VISITOR: After disastrous opinion poll results for Mal Talkbull, Flopposition Leader Bill Curly visits The Lodge to measure up for his furniture. Bill wants to rearrange Bill's downstairs furniture on the spot.
16. LATEST SPORT: Sports guru Big Gazza Roidman has stories on Serena Williams, Daniel Ricciardo and the Tour de France - which Gazza finds more boring than reading a book.
17. MAL & MENZIES (1): The late, great founder of the Liberal Party, Sir Robert Menzies, reminds the world that the Libs should be a progressive party by channelling Malcolm Talkbull.
18. MAL & MENZIES (2): Sir Robert Memzies still inhabits Mal Talkbull's body, which explains why republican Mal is now in love with Queen Bessie of Buckinghuge Palace.
19. CNN 26.7.17: News from Sandra Silly, showbiz with Richard Richard, and sports guru Big Gazza Roidman reports that Bernard Tomic has lost to world number 10,286 Stephen Hawking.
20. FIXING BILL'S IMAGE: Tanya Plibersexy and Anthony Albo want Labor boss Bill Curly to have the world's first head transplant. Whose head will win them the election? Cate Blanchett?
21. DONALD IN COURT: President Donald Dump sues journalists who say that he is misogynist. Donald denies it, insisting that he loves women, sometimes 2 at a time.
22. MAL IN COURT: Judge Cranky presides as Mal Talkbull is sued by Manus Island refugees for illegal detention and physical/psychological harm, including providing them with Vegemite.
NOTE: TRACKS ON THIS ALBUM MAY HAVE BEEN PREVIOUSLY BROADCAST AND/OR RELEASED.
COPYRIGHT: All tracks and material ©2017 Triffique Productions Pty Ltd. All rights reserved. All material downloaded is copyright. Unauthorised public performance, broadcasting on any medium (including. radio), hiring, lending, re-selling or copying of this recording is strictly prohibited. All rights reserved.
You'll get 1 file (42.9MB)
More products from doug_e