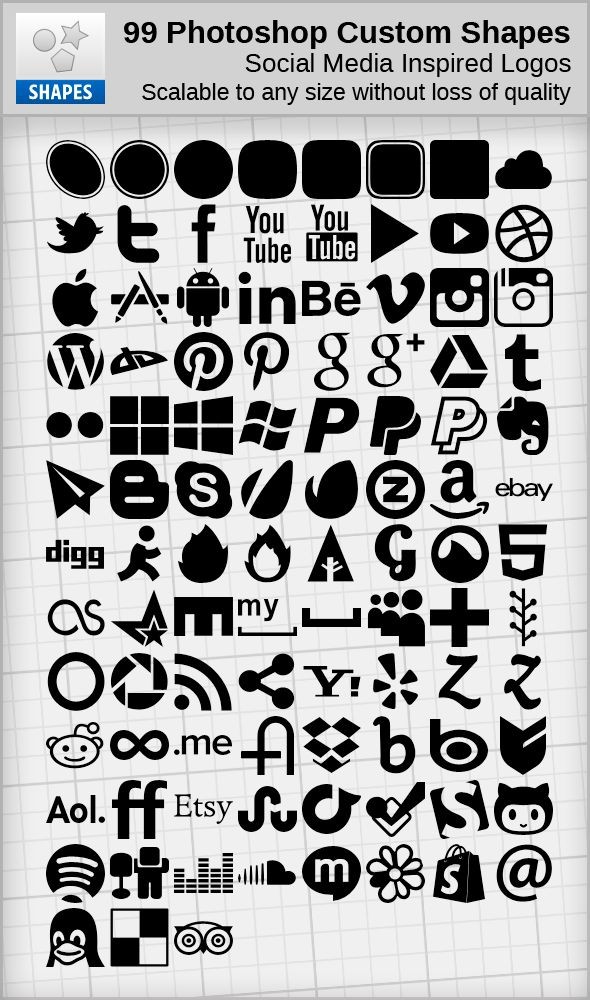 99 Social Media Inspired Shapes
This pack contains 99 custom shapes used by graphics designers in their templates and designs. Perfect for web or print projects.
Shapes are easy to customize, re-size and color. Can be scaled to any size without loss in quality.
INCLUDED:
.CSH file
Text Document
ASL FILE INSTALL INSTRUCTIONS: To install layer style to your styles menu, double click the file "SocialShapes.csh".
SOCIAL LOGO SHAPES: reddit, aim, apple, app store, android, windows, behance, deviantart, digg, dribbble, ember, evernote, facebook, flickr, forrst, google, google+, gowalla, grooveshark, html 5, icloud,
last.fm
, linkedin, metacafe, mixx, myspace, netvibes, newsvine, orkut, paypal, picasa, rss, share, skype, sparrow, tumblr, twitter, vimeo, wordpress, yahoo, yelp, youtube, zerply, zootool, 500px,
about.me
, pinterest, amazon, addvocate, dropbox, ebay, blogger, bitly, bing, bigcartel, aol, instagram, friendfeed, etsy, stumbleupon, rdio, foursquare, smashing magazine, googledrive, github, spotify, deezer, soundcloud, mixi, icq, shopify, email, linux, delicious, envato, tripadvisor, zazzle
All Works Created by Scott Hassler a.k.a. Hassified

---
Do you have a great design idea?
Book Illustrations, Tattoo designs, Vector art for logos or crafts. Good news! I take requests. Let me bring your idea to life. Simply connect and message me and I'll get back with you.
Connect with Me:
Blog:
http://hassified.blogspot.com/
Facebook:
https://www.facebook.com/scott.hassler.art/
Instagram:
https://www.instagram.com/hassified/
Pinterest:
https://www.pinterest.com/Hassified/
DeviantART:
http://hassified.deviantart.com/gallery/
Keep up with my latest designs and freebies as well as post and share your handmade projects in my Facebook group, Craftistry. Join Today,
https://www.facebook.com/groups/craftistry/
You'll get 1 file (48.1KB)
More products from Hassified