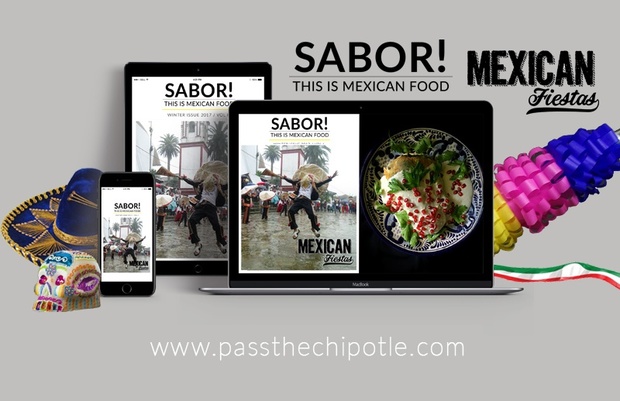 SABOR! This is Mexican Food. Mexican Fiestas Issue
This issue will take you on an exciting journey through the most iconic national celebrations of Mexico, where the palpable indigenous and mestizo expressions are intricately woven into the social fabric of the nation and deliciously manifested through our gastronomic traditions.
Explore through 6 in-depth articles the cultural history behind the patriotic occasions like Independence Day and the anniversary of the Mexican revolution to Christmas to the world famous Day of the Dead, find you why our fiestas rewarding and soulful celebrations of life!
With 15 handpicked traditional recipes you will be able to recreate unique and delicious dishes like pozole, chiles en nogada, day of the dead bread and many more, plus find a step-by step tutorial to make your own 7 star-point Mexican piñata.
This issue will definitely inspire you to start the making of your own family traditions!
MEXICAN FIESTAS
In this issue:


Mexican fiestas: the grand tradition of Mexican hospitality


Viva Mexico! Patriotic celebrations


Pozole soup (recipe)


Chiles en nogada (recipe)


Day of the dead: a celebration of life


Calabaza en tacha (recipe)


Día de muertos en Huaquechula, Puebla


Holadras: day of the dead bread (recipe)


Sugar skulls (recipe)


Feliz Navidad: a guide to Mexican Christmas feasts


Mexican fruit punch (recipe)


Buñuelos de Navidad: Crisp sweet fritters (recipe)


Making a Mexican piñata (tutorial)


Dia de la candelaria: a grand en to the holiday season


Bacalao a la Vizcaina (recipe)


Cheese-stuffed chipotles (recipe)


Beetroot Christmas salad (recipe)


Rompope: a drink of heavenly inspiration (recipe)


Rosca de reyes a Baking epiphany (recipe)


Dia de la Candelaria, a grand end to the holiday season


Tamales canarios: rice steamed dumplings (recipe)


Pineapple atole: a harty winter warmer (recipe)


Aniseed gorditas from Tlacotalpan Veracruz (recipe)


Rocio Carvajal
Editor
Alex Drago
Production Manager
[email protected]
www.passthechipotle.com/magazine
You'll get 1 file (51.5MB)
More products from SABOR