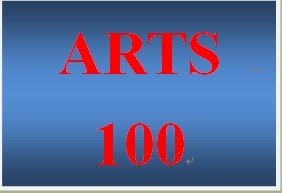 ARTS 100 Week 5 Defending the Arts
ARTS 100 Entire Course Link 
https://uopcourses.com/category/arts-100/
ARTS 100 Week 5 Defending the Arts
Art in Your Community
Experience
 the arts in your local community by attending a performance, visiting an art museum or gallery, or visiting art in public places.
Choose an exhibition or one artwork to discuss for this assignment.
 Include the following:


A description of the elements of composition: line, color, shape, or movement, theme, rhythm, tone, and so forth that were incorporated into the performance or artwork.


What was the overall emotional and intellectual effect the performance or artwork? What emotions does it inspire? Does the work have historic significance?


Include a defense of the arts that describes how the arts add value to life.  How might creative expression be helpful to your community?


Summarize how you would like to see the arts made more a part of your community. Is there anything you can do to make this happen? How will you support the arts in the future?


Submit
 your assignment as a 10-minute visual presentation.
 (Text only on title and references slides.  Slide titles are appropriate.)


Content should be comprehensive/accurate/persuasive and reflect an understanding of textbook readings.


Content incorporates key terms and concepts from weeks one through five.


Major points supported by specific details and examples.


Include detailed speaker notes. (Plagiarism rules apply to speaker notes!)


You'll get 1 file (1.4MB)
More products from UopTutorialStore