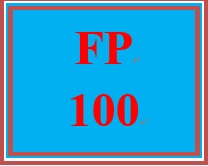 FP 100 Week 4 Homes: Renting and Buying Worksheet
https://plus.google.com/u/0/108200033792883877670/posts/dWT4sDYbQKM
 FP 100 Week 4 Credit History Worksheet 
FP 100 Week 4 Homes: Renting and Buying Worksheet 
Home ownership–is it still a part of your American dream? Are you a home owner or do you plan on being one? What are the pros and cons of renting versus buying? This assignment gives you a better idea of what to expect in each case.
Review your Week 4 Learning Activities, especially Focus on Personal Finance, Ch. 7.
Complete the Homes: Renting and Buying worksheet.
Submit your assignment to the Assignment Files tab.
You'll get a 78.0KB .DOC file.