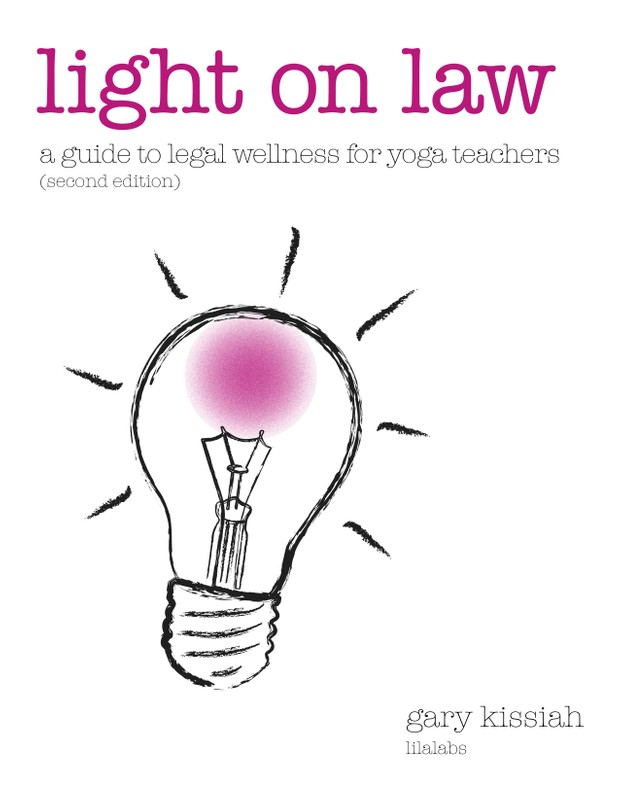 Light on Law For Teachers
This book provides everything about the law that yoga and wellness teachers need to know. It will empower you to understand the law, meet your legal obligations and  protect yourself from legal trouble.
It contains the new best practices that I prepared with Yoga Alliance for teaching students with pre-existing medical conditions. It also contains the new model form of release to protect you from liability.
It discusses how to make a simple legal agreement, how to start and run your yoga business, how to trademark your brand, how to protect your content, privacy laws, websites and social media, independent contractors and employees, and taxes. 
Here are just a sample of the many questions that I discuss in the book:
How do I start my yoga business? How do I protect myself from liability for injury? How do I set up a yoga practice in my home? How can I safely hold yoga classes in the park and on retreats? Does my insurance policy protect everything that I do? Can I negotiate my teaching agreements with the studios and what should I really care about? Am I an independent contractor or an employee? What are my tax obligations? How can I trademark my brand? What do I need to know for my website?


It includes 23 legal template agreements and almost 200 pages of resources.
Be sure to subscribe to the Light on Law Newsletter to get updates on important legal developments here:
http://tinyurl.com/clakwyn
Namaste!
Gary Kissiah
You'll get 1 file (1.4MB)
More products from Gary Kissiah