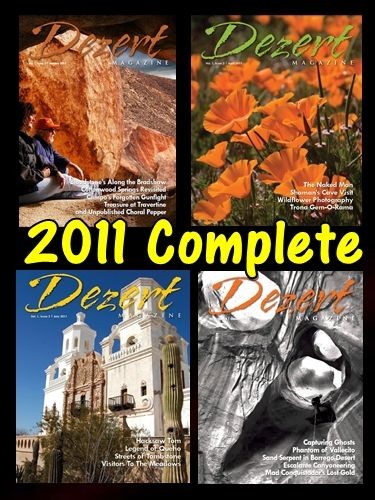 2011 Complete Year ( 4 Issues )
The COMPLETE 2011 issues on one download!!!! Come along with Dezert magazine and enjoy articles on Follow along with the new Dezert Magazine and take a trip down the Bradshaw Trail in search of the infamous Bloodstones. Revisit the fabled Cottonwood Springs with Walter Feller, take a ride back to Campo in the late 1800′s to see what it was like to be in the middle of most deadly gunfight in the west. Catch up with Kevin Wong as he interviews the legendary Dennis Casebier of Mohave Trail fame. Read new Unpublished Baja works from Choral Pepper, The Treasure of Travertine point and Walk down a ancient trail to understand the mysticism and workings of the Shamans Cave. Learn from Ernie Cowan, one of the best desert photographers, on just how to maximize your Wildflower Photography. Enjoy a explosive way to collect rocks and minerals during the Trona Gem-o-Rama. Retrace history with author Karen Lee Bixman and the story of land theft in the Great Gold Heist. Author Delmer Ross shares his interesting story about a crazed Naked Man out on the desert!!!! Discover how explorer John C. Fremont and a small " meadow " becomes the biggest neon city in the world. Stay in Nevada and learn about the rise and demise of the silver king town known as Tonopah. Then head over to California for the treasure of Betty Stohler, Betty was a true friend to Harry Oliver ( one of the original desert rats ) and has a HUGE collection of artifacts from Harry as well as many other early desert pioneers. Follow Bob Baran as he trials near the Santa Rosa mountains to one of the famed rock houses, learn of the legend of Hacksaw Tom in Apache Junction Arizona and Kathy Weiser-Alexander will strike fear in your heart with her story about the Phantom of Vallecitos. Meanwhile Diana Lindsay will share her story about how a giant Sea Serpent roams the Anza Borrego wastelands. We then head out to Rhyolite Nevada to read the tale of Mona Bell, followed by the Mad Conquistadors Lost Gold. We continue with a rare find from Tom G. Murray and his connection with the Lost Treasure of Bourbon Springs.

All for only $14.95!!!!!!!!!!!!!!!!!!!!!!!!!
You'll get 1 file (161.1MB)
More products from Dezert Magazine