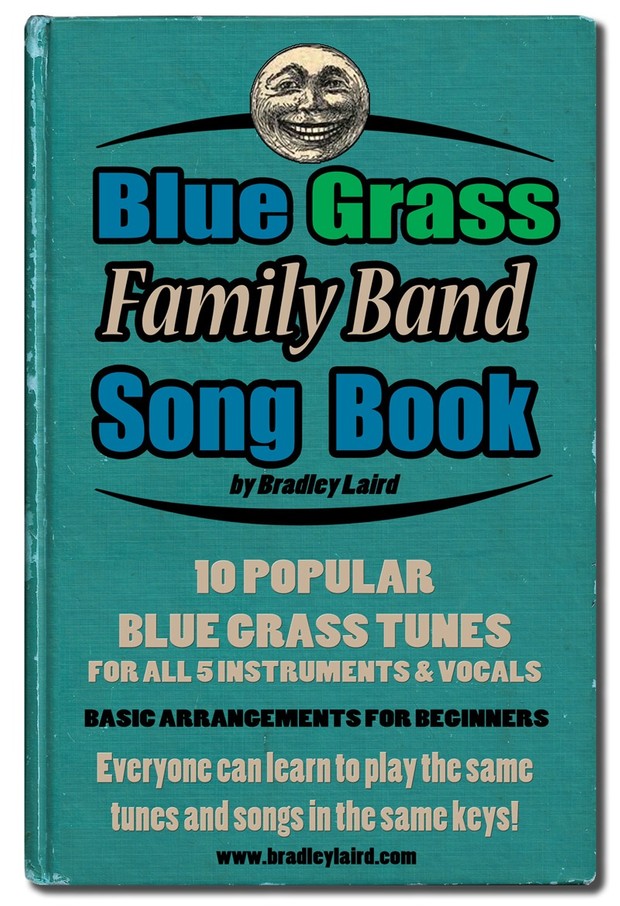 Bluegrass Family Band Song Book
Over the years I have taught thousands of people to play bluegrass and old-time music, either through my books, ebooks and videos or in private lessons. One of my goals with every student has been to help them get to the point where they can play music with other people.
One of the problems I have encountered over the years was the fact that most beginning books for the various instruments teach different songs, sometimes in different keys! I understand that banjo pickers often begin with songs like Cripple Creek and mandolin players often start with Boil Them Cabbage Down. etc. A fiddle teacher might prefer to start folks out on Old Joe Clark, and a guitar teacher... well, you get the idea. Everybody isn't learning the same tunes at the same time.
I realize that there are various good reasons for choosing to teach a beginner certain songs but eventually, in order to play together, it becomes necessary that everybody learns some of the same tunes! I set out to solve this problem and this 83 page PDF book is the result. (Don't ask me how many hours went into the creation of this gem.)
Each beginning player, regardless of their instrument of choice (banjo, mandolin, guitar, fiddle or bass) will still need some basic lessons to learn beginning techniques and how to read the printed notation, either tablature or standard notation. Those beginning steps can be learned using one of my beginning instruction courses. As soon as a person is able they should start "wood-shedding" the songs in this book. (That means practice them.) Then, when everyone gets together to play as a group, they will have a common set of tunes and songs.
The arrangements in this PDF book have all been made as simple as possible without losing the "essence" of the tunes. All of the songs can be played using only four chords. Some of the songs are written in the key of G and some in the key of A and I will explain that as needed in the chapters for each individual instrument. The PDF book is organized by instrument (or vocals) and within each chapter the songs are in alphabetical order. Special instructions and tips for each instrument are found within each chapter.
The eBook includes:
• 10 Easy Mandolin Arrangements
• 10 Easy Guitar Arrangements
• 10 Easy Banjo Arrangements
• 10 Easy Fiddle Arrangements
• 10 Easy Bass Arrangements... all in tab and standard notation.
All of them are the same 10 songs in the same keys!
As if that wasn't enough, the ebook also includes the lead (melody) and the lyrics! I have also written a chapter on learning to sing bluegrass two or three part harmony in an easy to understand form with examples.
As the purchaser of this ebook you are free to print out and distribute the pages you need to provide to your family or bluegrass friends. I only ask that you do not abuse that concept by posting it all over the internet. It's already insanely inexpensive.
You can view a free preview, with all of the parts for one complete bluegrass song, at http://
www.bradleylaird.com/family
This is also great if you already play and are trying to help others learn how to join in the fun too!
Happy picking and singing!
Bradley Laird
You'll get 1 file (2.1MB)
More products from Bradley Laird