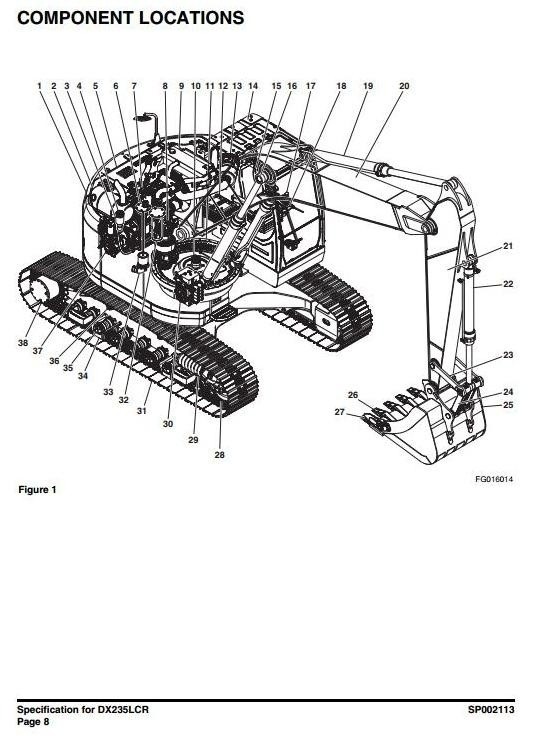 Doosan Crawler Excavator Type DX235LCR S/N: 5001 and Up Workshop Service Manual
Original Illustrated Factory Workshop Service Manual for Doosan Crawler Excavator Type DX235LCR.

Original factory manuals for Doosan Excavators, contains high quality images, circuit diagrams and instructions to help you to operate, maintenance and repair your truck. All Manuals Printable, contains Searchable Text and Navigation Bookmarks

Covered models:
S/N: 5001 and Up

Format: PDF, 784 Pages
Language: English

Contents:
Safety
Track Excavator Safety
Specifications
Specification for DX235LCR
General Maintenance
General Maintenance Procedures
Standard Torques
Upper Structure
Cabin
Counterweight
Fuel Tank
Fuel Transfer Pump
Swing Bearing
Lower Structure and Chassis
Track Assembly
Engine and Drive Train
Drive Coupling (Main Pump)
Hydraulics
Hydraulic System Troubleshooting, Testing and Adjustment
Accumulator
Center Joint (Swivel)
Cylinders
Swing Device
Travel Motor
Main Pump and PTO
Gear Pump
Main Control Valve
Remote Control Valve (Work Lever / Joystick)
Travel Control Valve (with Damper)
Solenoid Valve Assembly
Breaker EPPR Valve (Opt)
Hydraulic Schematic (DX235LCR)
Electrical System
Electrical System
Electrical Schematic (DX235LCR)
Attachments
Boom and Arm
Bucket.
You'll get 1 file (37.7MB)