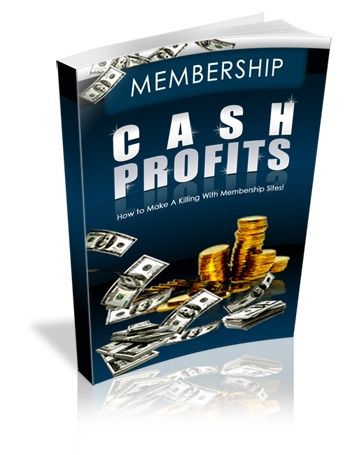 MEMBERSHIP CASH PROFITS
"How Would You Like To Easily Create Your Own Cash Spewing Membership Sites Without Fuss Or Difficulty?" You Are About To Discover The Art Of Creating Recurring Streams Of Income Without Breaking A Sweat Or Being An I.T Expert At All! There are tons of ways you can earn money through the internet. You've probably heard of commercial blogging, affiliate marketing, ebay, and things like that. However, most of these forms of marketing only earn you single profits. What I mean by that is that you'll clinch a sale and that's it. The customer gets his product, you get your money, and both of you go separate ways. Sure you may argue that you can upsell him a better product along the way or another product but honestly, how many times did you make a profit? Two? Three at the most? How about having a marketing method that makes him return over and over again without fail? We're talking about membership sites here. The membership site is the secret weapon of top brass marketers because of the recurring profits it manages to generate, and you're not talking 5-6 times, but month after month after month of income streaming into your pockets till it dribbles out overflowing! Before you jump up and rush to grab the nearest membership site script I'll have to let you in on a little niggling problem - Membership sites require a lot of work. Yes, you'll need to do market research to find a good niche, set up the site with some programming knowledge and always slap on heaps of new content every month! Okay so maybe you're not so enthusiastic to jump at the opportunity to start the site now are you? Relax. Thousands of seasoned marketers have created lucrative, cash churning membership sites that pull in tons of cash over and over with a glitch. How they did it is what you're about to discover. You see, I was like yourself once , stuck and frustrated wondering how to even get started in creating a membership site. But after months of research, trial and error, everything suddenly clicked and I begin to create recurring income month after month as easily as pie! So today, it's time for you to start profiting from the A-Z guide I created from 4 months worth of trials, errors and hardship!
You'll get a 2.5MB .ZIP file.