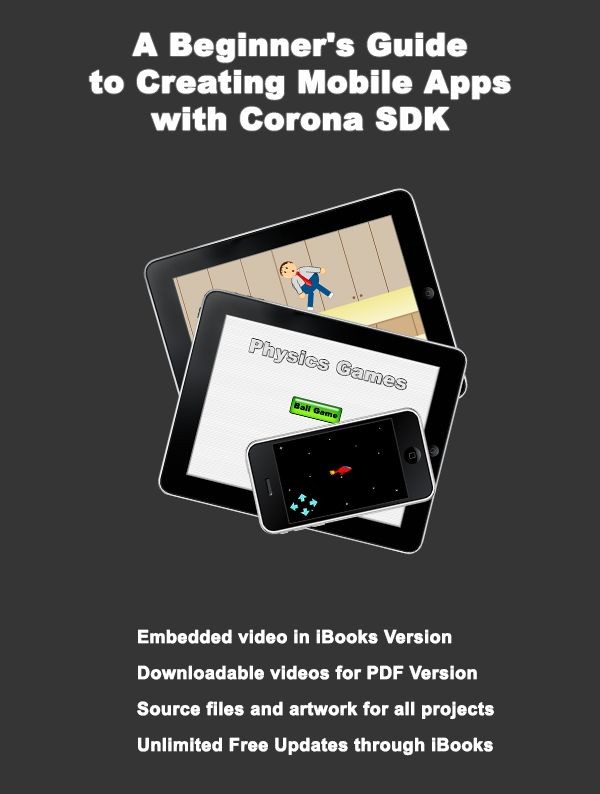 A Beginner's Guide to Creating Mobile Apps with Corona SDK
Creating a mobile app can be intimidating and difficult. Fortunately, there's Corona SDK to make it easy and fun! Learn how to make your own apps!
Have you ever wanted to make your own mobile app game, but didn't know how?
This guide will introduce you to the world of mobile app development through Corona SDK. You'll dive right into creating your own game apps using software that you already have on your computer and software that comes with free trials.
This is the anti-coder's manual, going right into the examples without all of the boring jargon and technical background. You'll create 4 apps from start to finish, with additional files provided for other apps.
Artwork and source files are available to download so you can focus on the fun parts!
Greg Pugh is a full-time Flash and mobile application developer. He is a Corona Labs Ambassador, tutorial writer, children's book author, and illustrator.
Author's Note: Newer releases of Corona SDK may cause the rag doll example to no longer function properly. To rectify this issue, you can remove "local" from the headPunch() and bodyPunch() functions. To give you a better idea, I've compiled a new finished version of the rag doll examples that will work with the newer releases of Corona SDK. If you're using an older version of Corona SDK and the example works for you, you can ignore these files until you update the software. Thanks!
http://www.GPAnimations.com/newguy.zip
Important: This book was written before Corona Labs introduced Graphics 2.0, which uses a different method of displaying artwork on the screen. If you are using a Corona SDK build that starts with a "2" (e.g. Corona SDK 2013.2100) you will need to set the compatibility mode to 1:
http://docs.coronalabs.com/guide/graphics/migration_v1.html
If you are using a version of Corona SDK that begins with 1 (
https://developer.coronalabs.com/content/coronasdk-20131202-0
) you do not have to worry about this.
You'll get 1 file (15.1MB)