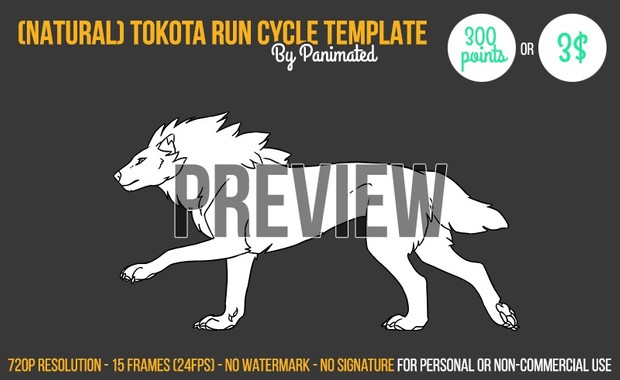 Tokota Run Cycle Template
View a preview of the animation here:
http://fav.me/d99lykl
 Hello Tokota-fans and owners! I've made this template especially for you :)
If you're not familiar with Tokotas, they're a very well-developed original species owned by the Tokota group on deviantArt.
The whole species is just really well-thought out, and they gave me their permission to make this template, so a big thank you to them!
I tried to make this run cycle heavier and slower than my wolf-runcycle, and used a running great dane as reference for the timing :) I'm quite happy with the footwork on this one.
Oh and this is new: As you can see, this template is "pre-coloured" white. This white layer is in a separate layer underneath the line-art, and has locked transparency - which makes faster to colour. This only appears in the PSD.file, and you can turn it off if you'd rather start from scratch colouring.
This is sort of an experimental template, to see how a template of an original species will work out. If you do like it, make sure to buy it and it's quite likely I'll create variations, like other mane-types, dire-build etc. As much as I'd love to make templates like these all day, I do need to make a living, and I can only prioritise this sort of work if I know there is a demand. 
Tokotas are a closed species owned by the Tokota-group, and you need to get your Tokota character accepted by the group. I'd prefer it if you were a part of that group if you decide to use this for your Tokota character, but if you're crafty, you can re-purpose the line-art to make it into a big, "regular" wolf. I can't control that really, but be respectful of the species! :)
This cheap template can be used for pretty much anything!

 Reference sheets
 RPing
 Animation exercise
 Individual frames can be used in comics, series and such
 Reference
 Anything you can imagine! If you're in doubt, ask me! 
Do feel free to edit the template in any way you'd like, you could just colour it, or you could redraw the entire line-art to make it more your style, add hair, or change it's look however you'd like. It's yours to keep and do whatever you'd like to do with it!
Click here to buy the template with deviantArt points: http://fav.me/d99lykl
This download comes as a Zipped folder, and contains the following:

 1 PSD file containing all frames as layers (arranged and ready for animating)
 1 PNG-sequence (so you can use in other programs)
If you're not sure how to use this, perhaps this quick tutorial can be helpful:
http://panasonja.blogspot.no/2013/04/tutorial-animating-in-photoshop.html
RULES:
The template can be used for any personal and non-commercial use.
You can NOT use this template for the following:
 Commissions
 Redistribution (don't sell it or give it to anyone for free, or make it available to people to download for free or for your own earnings)
You don't HAVE to credit me, but it would be super appreciated! Also if you let me know that you've used this template, I will add a link in this description so more people get to see it :)
Thank you very much for buying the template, favouriting and sharing! By doing so you support my art, and allow me to make more!
You'll get 1 file (1.6MB)
More products from Sonja "Panimated" Langskjær