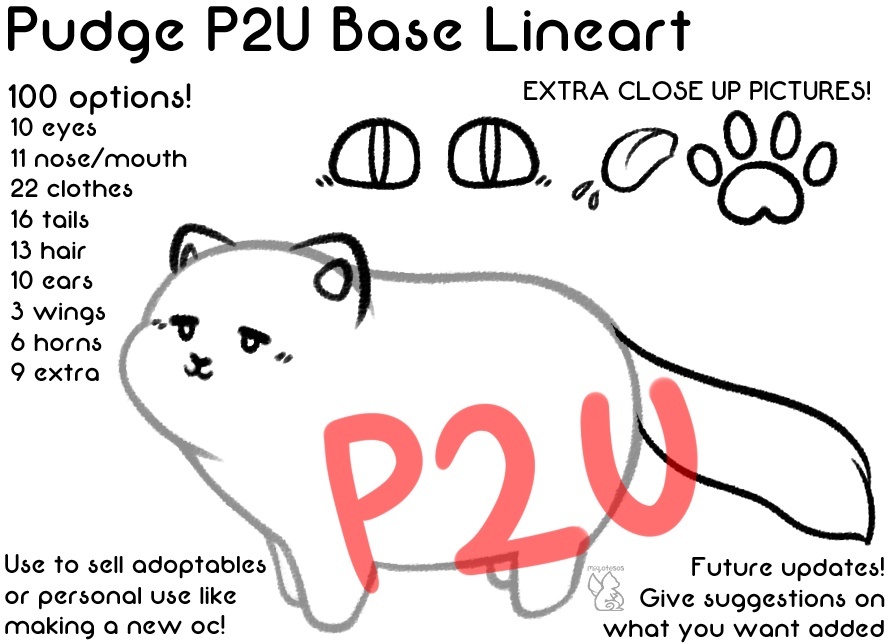 Pudge Base Lineart 1.0
This pack includes a PSD & Sai file. Please make sure before purchasing that your program can use one of these files.
The Pudge Base Lineart has 100 options including:
10 eyes
11 nose/mouth
22 clothes
16 tails
13 hair
10 years
3 wings
6 horns
9 extra
This pack also includes close up pictures of the eyes, paw pads, & tongue.
- - - You can:
~ Edit lineart
~ Use for reference sheets, adoptables, personal use
~ Sell adoptables you make with this base for cash or points
- - - You can NOT:
~ Share this pack/base lineart with people who have not purchased it
~ Resell the pack/base lineart
~ Claim the pack/base lineart was your own work
~ Remove the signature
Also please DO NOT make extra lineart options such as ears, clothes, tails, etc. & sell them. I am still updating this base with more options! You can however make your own options for personal use as long as you don't sell it. This may change in the future when I'm finished updating the base.
Please credit me when using the base.
Remember to check back for future updates for the base!
Give suggestions on what you want in the future!
(Price may raise as more is added extra add ons may cost under a dollar. Price depending on amount of items.)
You can find me here:
- - Frequent Sites
Furaffinity -
http://www.furaffinity.net/user/animalseeker/
Twitter -
https://twitter.com/miqotesos
- - Site -
http://miqotesos.weebly.com/
Email -
[email protected]
lPh9
$7
591da0809d29c9595acdd331
You'll get a 6.5MB .ZIP file.