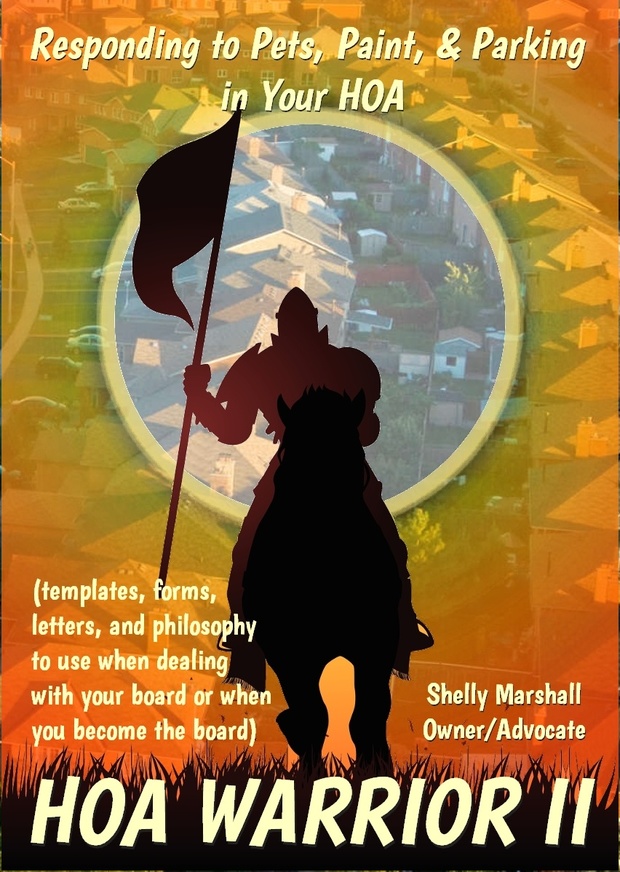 BOOK 2: HOA Warrior II: Pets, Paint, Parking--Includes 101 Forms
HOA Warrior II: Responding to Pets, Paint, & Parking in Your HOA (101 templates, forms, letters, and philosophy to use when dealing with your board or when you become the board) SECOND BOOK IN SERIES. **Updated Spring 2018 with current State Code links**

Disputes over the three Ps are usually where people who bought into an association begin to understand that life in an HOA or Condo Association is not as rosy as the real estate agent led you to believe. You may not have to worry about the guy next door putting three or four cars up on cinder blocks in the front yard, but now you have to worry about nosy Nazi neighbors, parking in your driveway, the color you paint your door, the weight of your dog, and how much you are liable for when a bully board loses a lawsuit. You have to worry about embezzlement and bullies! You have to worry about tiny infractions of the CC&Rs that can ultimately lead to losing your home.

To help you carry out your defense here are over 101 forms and documents to use and share with your neighbors You can edit every form that comes with this book in a word document. You download a Zip file with all the forms and store them in your computer. When you buy this package you are licensed to edit and use the documents for yourself and your neighbors.

HOA Warrior II (which includes a Zip file) lays the foundation to play the HOA/Condo game to your advantage. This is done in forms, sample letters, requests and strategic planning in order to avoid disaster. This package explains what type of forms to use, and how to respond to most issues in your Association. Sample forms include:

Objection letter and request for hearing for any fine imposed
Sample letter to request documents
Sample request for waiver of rule
Sample request for parking variance
Sample request for disability accommodation
Do it yourself Bylaws Cheat Sheet
How to take minutes
How to respond to members if you are the board
Summary of board resolutions
Filing complaints
Board responsibilities
and many many more!
You'll get 1 file (3.6MB)