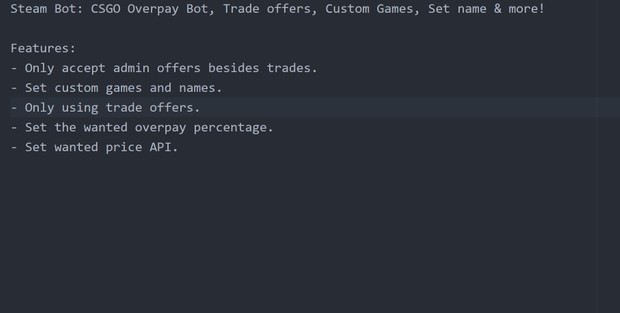 Steam Bot: CSGO Overpay Bot, Trade offers, Custom Games, Set name & more!
CSGO Overpay Bot

A good way to make profit while trading is selling your higher value items for item overpay, but why use your vauble time trading with people, when you get a bot to do the work for you 24/7!
Introduction
Hey, I'm SnaBe and I can program almost any kind of Steam Bot. I use node.js for my bots, and .json for the configs.
All my bots are easy to edit, with a user guide/setup guide for newcomers to node.js and JSON.
I'll provide support if any problems should occur. But only when I'm online, tweet at me or email me for the chance of a faster response.
I'll often update my bots, all customers who've bought a bot from me will always receive the updates for free. All news relating updates will happen in this Steam group -
http://steamcommunity.com/groups/snabes-bots
Features


Only accept admin offers besides trades.


Set custom games and names.


Only using trade offers.


Set the wanted overpay percentage.


Set wanted price API. 


Needed to run the bot
You'll need a Steam account for the bot, I've provided a .bat file that will automatically start up the bot. However, if you want the bot to run 24/7, you'll need a VPS.
Where can I get a VPS!?

I would recommend Digitalocean, they have a great service stable servers. And if you sign up using my referral code, you get an extra $10!
-
https://m.do.co/c/5465e416d8df
CSGO Overpay Bot by SnaBe's Bots
Demo version - Coming soon...
- If the bot isn't online, add me and request a demonstration.
Price $7.99 , £ 5.75 , €6,50
Currently sold:
4
You'll get 1 file (9.0MB)