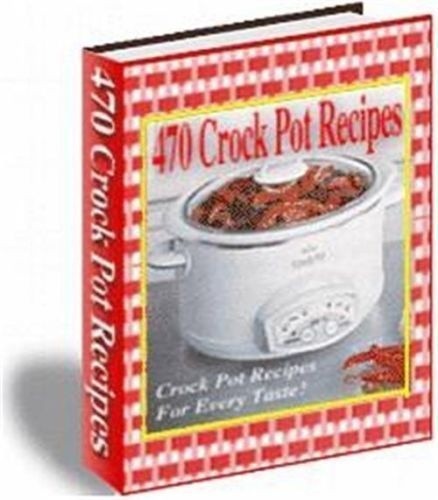 470 Crock Pot Recipes E-book PDF
470 Crock Pot Recipes E-book PDF
After discovering how much time and money I was saving using my crock pot. I thought, Wow! There are a lot of people that could benefit from using there crock pot to it's full potential, so I gathered up all the recipes that I had found and put together an eBook that any one can use, packed with 470 of the best recipes. In 470 Crock Pot Recipes you will find tasty main dishes, side dishes and even deserts that canbe prepared in your crock pot.          
16 BEAN SOUP
1 package 16 Bean Soup3 bay leaves1 tablespoon crushed oregano2 cans no-fat chicken stockAdditional water to cover3 stalks celery chopped3 carrots diced1 large onion chopped3 cloves garlic sliced1 pound turkey Italian sausage sliced2 cans stewed (or diced) tomatoesCombine first 5 ingredients (liquid should cover mixture by 1"-2") inCrock Pot Cook on high for 2hours Add remaining ingredients and shift cooker to low and cook foradditional 3 hours For morezing, add cayenne or crushed red pepper when adding second set ofingredients. Serve ascomplete meal or over rice. Freezes well.


ALL DAY CROCK POT DELIGHT
2-3 lbs. boneless chuck, cut into 1 inch cubes1/2 c. flour1/4 c. butter1 onion, sliced1 tsp. salt1/8 tsp. pepper1 clove garlic, minced2 c. beer1/4 c. flourCoat beef cubes with the 1/2 cup flour. Brown in melted butter. Drainoff excess fat. In crock pot, combine browned meat with onion, salt,pepper, garlic and beer.Cover and cook on low 5-7 hours (all day) until meat is tender. Turncontrol to high. Dissolve remaining 1/4 cup flour in small amount ofwater. Stir into meat mixture, cook on high 30-40 minutes. Serve withrice and salad.






You'll get 1 file (797.3KB)
More products from MYDIGITALSTORE