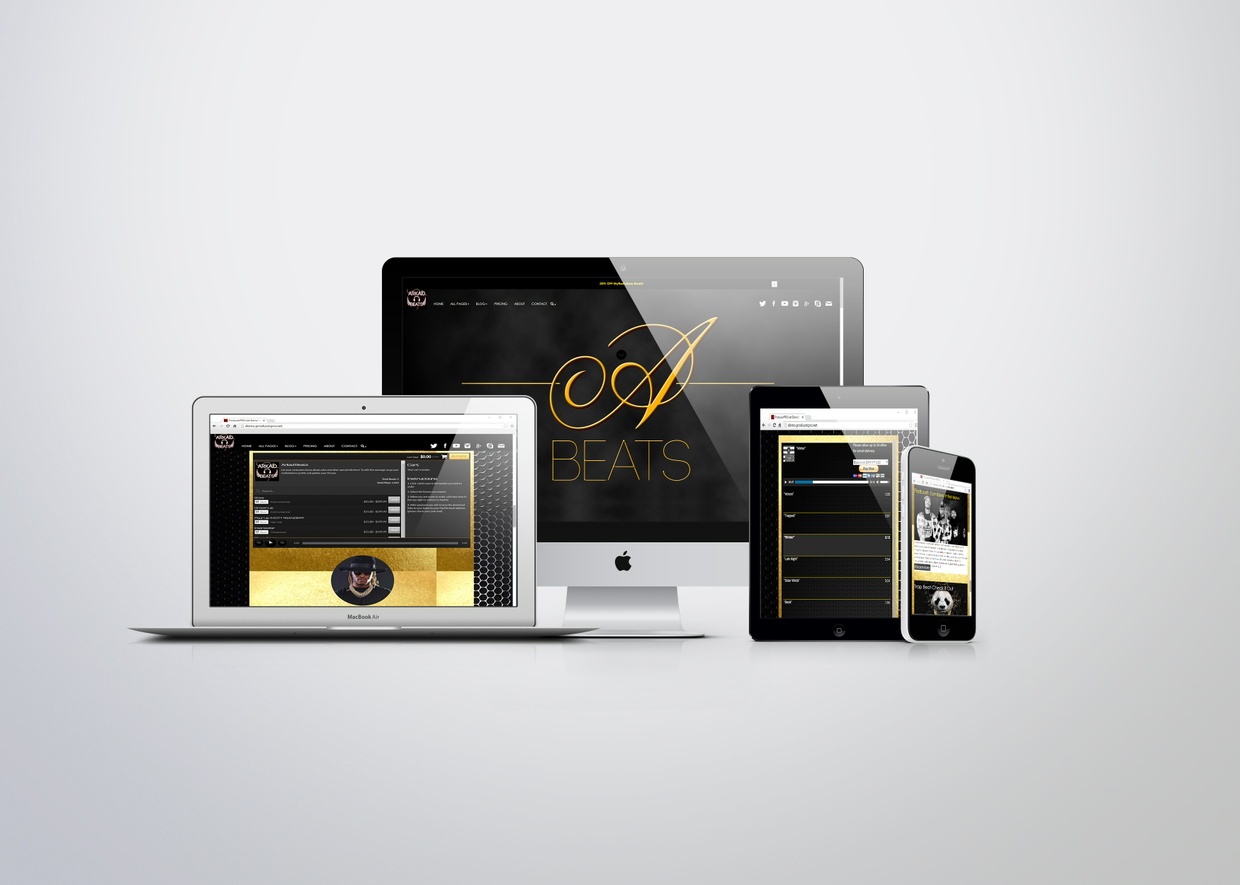 ProducerPRO WordPress Theme - Pro Version
Create your own beat selling website in minutes. ProducerPRO is a powerful Wordpress Theme that allows music producers set up a website quickly and easily. The theme is designed to host the necessities to run a professional online music production business, while looking great. Sell your beats online with its built-in Beat Store and connect your current music platforms such as Myflashstore, Beat Stars, Soundclick, Reverbnation, and Soundcloud.
ProducerPRO is fully customizable and has been optimized for screen resolution responsiveness, meaning it will fit the screen of any device. In the Pro Version of ProducerPRO is ShieldPRO, which keeps your uploaded beats safe from online thieves. Other WordPress Themes will let anyone browse your webpage and download your uploaded image and audio files without you knowing. ShieldPRO guards you from this by making it much harder for them to find your files.
Keep your visitors up to date on your work with the built-in Twitter feed widget and the YouTube video embed section. If you want to start blogging, or already have your blog running, ProducerPRO has you covered; its page and blog designs are refined and organized to ensure your readers enjoy.
Your website should do the selling for you. ProducerPRO is the best choice for producers who need a secure music store and central hub for all their media outlets and platforms. Let ProducerPRO help you set up your website swiftly and easily today. ProducerPRO pays for itself in just 1 beat sale.
Features: 
• Customizable Backgrounds and Colors 
• Customizable Header and Footer 
• Customizable Images, Text, Links, Video 
• Built-in Image Slider featuring a Left-to-Right and Fading Slider 
• Embed your Youtube Video in the Youtube Section 
• Sell your beats with the built-in secure WooCommerce Beat Store (PRO Version Only)
• Let your customers instantly download beats after buying (PRO Version Only)
• Supports 5 different Music Platforms - Myflashstore, Beatstars, Soundclick, Reverbnation, Soundcloud 
• Built-in Promo and Twitter Feed Widgets 
• Social Media Buttons for: Instagram, Twitter, Facebook, Youtube, Google+, and Skype 
• About Me/Contact Me Section 
• Fully responsive theme so your customers can access your website on any device (mobile, tablet friendly) 
• SEO Optimized 
• ShieldPRO defends your beats from online thieves (PRO Version Only) 
• And more!
Terms of Service: 
• Standard Version: Purchase of this product gives you access to the current version and 12 months of updates and support of ProducerPRO. 
• Pro Version: Purchase of this product gives you access to the current version, lifetime of updates and support of ProducerPRO, as well as ShieldPRO. 
• Due to the nature of downloadable files, there are no refunds for this product. 
Read more about Standard vs Pro Version here:
http://www.producerpro.net
Set up Instructions:
1. Go to your website's wordpress dashboard.
2. Go to Appearance - Themes. 
3. Click Add New - Click Upload Theme. 
4. Choose your ProducerPRO zip file you downloaded. 
5. Click Install Now. Then, click activate and you are ready to customize! 
Set up tutorial video:
https://www.youtube.com/watch?v=qqby4t_x5zU
Full Size Preview Image:
http://i.imgur.com/sN2ToGU.png
Demo Website:
http://demo.producerpro.net
Learn More:
http://www.producerpro.net
Set-up Tutorial:
https://www.youtube.com/watch?v=qqby4t_x5zU
Update Notes:
Version 2.0:
-Bug Fixes
-PRO Version: Offer Instant Downloads from your Beat Store with WooCommerce! Watch: 
https://www.youtube.com/watch?v=NsGxHi4U0qc
Version 1.21:
-Bug fixes
Version 1.2:
-Added optional Navigation Bar
Version 1.1:
-Added Terms and Conditions subsection to License Pricing section
-Added Product Promotion section
-Fixed blogpost scroll bug
Version 1.0:
-Product Release
You'll get a 245.9KB .ZIP file.