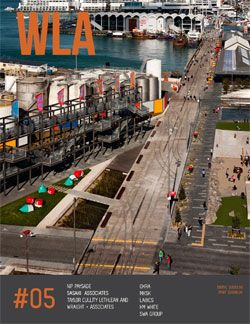 WLA 05 | Landscape Architecture Magazine
The WLA #05 includes built and unbuilt landscapes. It is great to see a wide range of projects from USA, New Zealand, Canada, UK, Italy and Guatemala. The contributing firms in #05 include Labics, Sasaki, SWA Group, MKSK, Taylor Cullity Lethlean And Wraight + Associates, OKRA, HM White, and NIP PAYSAGE.
More from this seller
WLA #01 was the launch edition and included the Minneapolis Riverfront Design Competition with entries from Gustafson Porter | James Corner Field Operations | Minneapolis Riverfront | JMD Design | Valentien+Valentien | ACT Contents A DRAMATIC TOUR | ACT: ACTIVE CITY TRANSFORMATION THE AUSTRALIAN ...
WLA #02 features the 9/11 Memorials in New York and Pennsylvania Projects featured include SHARED SPACE 2.0 | OKRA| MAXWAN A+U | BASLER&HOFMANN PINK BALLS | CLAUDE CORMIER WUYUAN MOON BAY | HASSELL FLIGHT 93 NATIONAL MEMORIAL | PAUL MURDOCH ARCHITECTS & NELSON BYRD WOLTZ LANDSCAPE ARCHITECTS ...
WLA #03 feature project was STOCKHOLMSPORTEN by BIG (BJARKE INGELS GROUP) Projects featured in this edition include STONE RIVER | JON PIASECKI AQUA-CULTURES | STOSS LANDSCAPE URBANISM DARLING QUARTER | ASPECT STUDIOS LA MUÑECA | OGLO STOCKHOLMSPORTEN | BJARKE INGELS GROUP BEACH PROMENADE | SPEKTRUM ...