WLA 05 | Landscape Architecture Magazine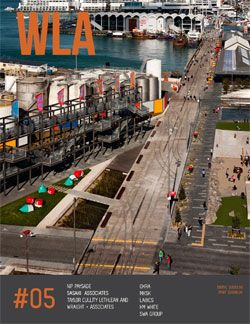 WLA 05 | Landscape Architecture Magazine
The WLA #05 includes built and unbuilt landscapes. It is great to see a wide range of projects from USA, New Zealand, Canada, UK, Italy and Guatemala. The contributing firms in #05 include Labics, Sasaki, SWA Group, MKSK, Taylor Cullity Lethlean And Wraight + Associates, OKRA, HM White, and NIP PAYSAGE.
More from this seller
WLA 15 looks at the Large scale projects and large ideas from different parts of the world by BIG, MVRDV, Mandaworks, HOSPER, Stoss & SHoP Architects, AECOM, ASPECT Studios, Sasaki, UNStudio, Turenscape, Mathews Nielsen, BDP and more
Temporary and Transitory is the theme for the 14th edition of WLA Magazine. Various projects are published in this edition including temporary sand dunes, festival spaces, pop-up gardens, art installations, display gardens, indoor landscapes and waterscapes. Firms and Organisations work published ...
The 13th edition of WLA Magazine showcases 21 small scale projects from across the world. In this latest edition of WLA Magazine we feature an exciting range of projects of different scale projects from pocket gardens in Italy, pedestrian plazas in Sydney and Bangkok, a subtle walkway through the ...
Choose product
Place order
Download product
Secure 256-bit connection
Choose product
Place order
Download product