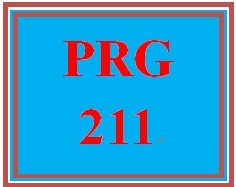 PRG 211 Week 4 Learning Team Collaboration: Ch. 8, Debugging
Entire Course Link
https://uopcourses.com/
https://plus.google.com/u/0/108200033792883877670/posts/dWT4sDYbQKM
 PRG 211 Week 4 Learning Team Collaboration: Ch. 8, Debugging 
Often programmers are asked to find errors in code that has been created previously, and often not by them or anyone currently with the organization.
As a team, complete the "Debugging Exercises" in Ch. 8, "Arrays," of Starting Out with Programming Logic and Design.
Discuss the errors your team found. How could these errors be avoided?
You'll get a 32.0KB .DOC file.