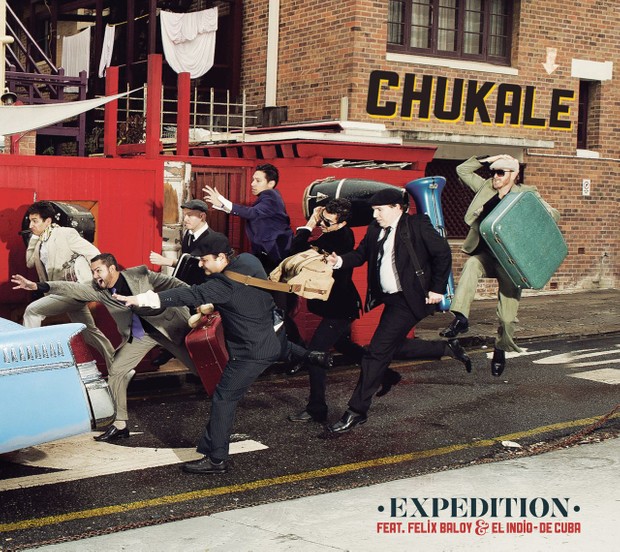 Chukale - Expedition (2011 Album)

Chukale - Expedition (2011 Album)
MP3 format
Contains album art JPGs.

Track Listing:
01. Descarga De Oz
02. Sera Tu Estela
03. Guajira Con Danzon
04. A Mi
05. Damas Cha Cha Cha
06. Borinquen Querida
07. De Que Forma Debo Amarte
08. Sacrificio
09. El Fruto
10. Land Down Under

Personnel:
Gustavo Cereijo: Congas, Bongo, Guiro, Batá Drums (track 9), Backing Vocals, Musical Director
John Anderson Sanchez Lozano: Lead Vocal (track 2), Backing Vocals
Ateca Roberte: Backing Vocals
Gonzalo Porta: Lead Vocal (track 6)
Victor Hugo Botero: Lead Vocal (track 10)
Christo Iconimidis: Piano, Backing Vocals
Osmar "Chiky" Salazar: Bass
Sacha Kloostra: Drums, Timbales, Maracas (tracks 3, 7), Clave (tracks 1, 3)
Alex Nesevski: Timbales (track 4)
Daniel Gonzales: Batá Drums (track 9)
David Allen: Batá Drums & Shekeré (track 9)
Shane Hannan: Trombone
Dave Murtough: Trombone
Mikael Strand: Trombone (track 10)
Matt McGeachin: Bass Trombone (track 8)
"Papa" Joe Roberts: Baritone Sax (tracks 2, 4, 6), Flute (track 10)
Robert Schultz: Trumpet
Michael Connors: Trumpet (tracks 1, 3, 5)
Josh Sinclair: Trumpet (track 6)
Shannon Marshall: Flugelhorn (track 7), Trumpet (track 9)
Michael Patrick: Violin (tracks 4, 7), Viola (track 7)
Kathryn McKee: Cello (track 7)

Cuban Guest Artists:
Felix Baloy: Lead Vocals (tracks 1, 3, 4, 8)
Sixto "El Indio" Llorente: Lead Vocals (tracks 4, 8)
Antonio "Leal" Rodriguez: 1st Trombone Solo (track 8)
Policarpo "Polo" Tamayo: Flute (tracks 1, 3, 5)
Oderquis Revé: Batás (track 4)
Rolando "El Niño Mentira" Salgado: Congas, Timbale Solo (track 4), Bongo (track 7)
Carlos Puisseaux: Guiro (track 5)
Rainer Garzòn: Violin (tracks 1, 3, 5)


After his first trip to Cuba in 1998, Gustavo Cereijo began a musical journey that ultimately culminated in the creation of this album. Having met with members of legendary Cuban band Juan De Marcos and The Afro Cuban All Stars at the 2000 Sydney Olympics, Gustavo was inspired by their mix of old and young musicians, and embarked on a project with the ambition of bringing his Australian salsa band Chukale together with veteran Cuban singers and instrumentalists.

In 2009, Chukale began writing and recording tracks in traditional Cuban rhythms, as well as modern afro-cuban styles, Puerto Rican-infused salsa and latin jazz. After 2 trips to Cuba recording with some of Cuba's most esteemed musical elders as well as upcoming talent, Gustavo was able to realise a dream with the completion of this diverse and encompassing musical project.

Featuring 30 musicians from 6 different countries this album celebrates a remarkable expedition, and is a first of it's kind - bringing Australian and Cuban artists together in a musical document of significant importance.
You'll get 1 file (116.4MB)
More products from Sacha K