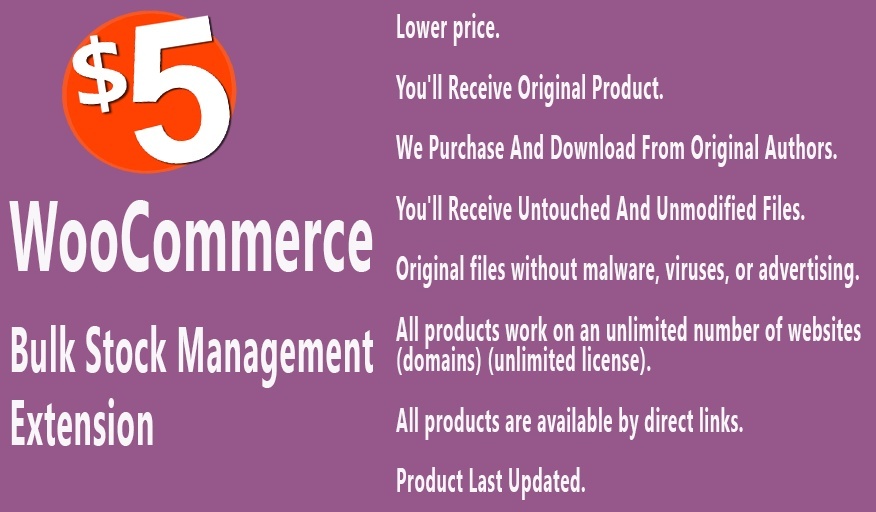 WooCommerce Bulk Stock Management Extension
WooCommerce Bulk Stock Management 2.2.11 Extension
---
WooCommerce Bulk Stock Management Extension Version : 2.2.11WooCommerce Bulk Stock Management extension adds a new interface to your products section which allows you to edit product and variation stock levels in bulk.
---
Exactly the same! This is the EXACT same plugin (Version 2.2.11) being distributed by WooCommerce.com
---
Why You Need It WooCommerce Stock Management Extension:Want to perform bulk updates on stocked product and their variations? This nifty interface lets you filter products by type, stock management status and stock status as well as order your products by ID, name, SKU or stock quantity.  Stock ManagementGo to 'Products' 'Stock Management' in the WordPress admin menu to manage your stock with the WooCommerce Stock Management Extension.From there, you can filter the products by stock management status, stock status and category. Order the products by name, ID, SKU or stock quantity. You can even use the the field to the right of each product to conveniently set the stock quantity.
---
Buy Now============================================You'll get a download link immediately after purchase============================================Lower price.You'll Receive Original Product.We Purchase And Download From Original Authors.You'll Receive Untouched And Unmodified Files.Original files without malware, viruses, or advertising.All products work on an unlimited number of websites (domains) (unlimited license).All products are available by direct links.Product Last Updated.Download WooCommerce Bulk Stock Management.You'll receive the exact .zip file you would download from the original author. If you buy from here, you can save your money up to 99% and 100% virus free.Viewhttps://woocommerce.com/products/bulk-stock-management/
You'll get a 16.3KB .ZIP file.
More products from WooCommerce Plugins Extensions