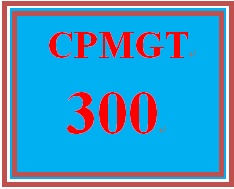 CPMGT 300 Week 4 Breaking Down the Work
Entire Course Link
https://zh.scribd.com/document/340327850/Uop-Tutorial
 CPMGT 300 Week 4 Breaking Down the Work 
The team creates a work breakdown structure (WBS) and a project schedule for the Garage project that includes the project phase, tasks, resource names/titles. The tasks listed are organized into the phases of a project lifecycle and are decomposed to suit the work at hand (at least 30 to 35 individual tasks).
Like everything else, setting up a WBS is easy when you know how! All the steps necessary to complete this assignment are covered in the the collection of videos listed below. These videos are part of the assigned coursework from the
Lynda.com
Project Management Fundamentals videos. Watching all the videos will take just over 15 minutes, so please do yourself (and your teammates) a favor and complete this assignment before starting on this work.   
An overview of project planning  
What Is a work breakdown?  
How to build a work breakdown structure  
How to define work packages  
Learn to estimate time and cost  
Create a resource management plan  
Check the linked grading rubric for details related to this assignment. 
You'll get a 13.6KB .XLSX file.
More products from UopTutorials