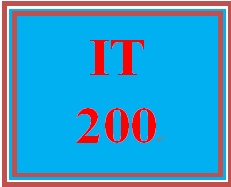 IT 200 Week 2 Lynda.com®: Foundations of Networking: Networking Basics
Entire Course Link
https://zh.scribd.com/document/340327850/Uop-Tutorial
 IT 200 Week 2
Lynda.com
®: Foundations of Networking: Networking Basics 
Watch and complete the following sections and subsections from the
Lynda.com
® video, "Foundations of Networking: Networking Basics":   
Section 1, Network Topologies    
Understanding Logical and physical topologies  
Understanding mesh, bus, and ring topologies  
Exploring star hybrid star topologies  
Section 2, Network Implementations    
Understanding wide area networks(WANs) and metropolitan area networks (MANs)  
Exploring LANs, WLANs, and PANs        
Section 5, Commonly Used Network Devices  
Note:  Completing these exercises will benefit your Supporting Activity responses. Click on the button that is labeled "Exercise files" above the video you are viewing, then click the file name in the pop-up box to download the files to your computer.
You'll get a 50.5KB .DOC file.