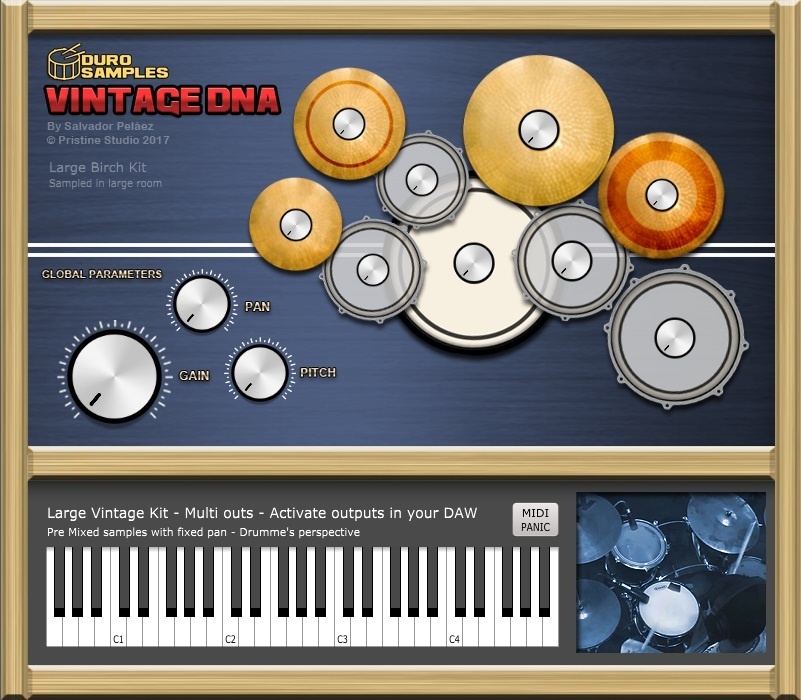 VINTAGE DNA-kit 32bit by DURO SAMPLES
Vintage DNA is a warm, large Birch Drum Set that can work very well in many different styles of music like Indie, Pop Rock, Rock & Roll, Country, Bosa, etc...
Drums and cymbals where sampled in a larger room with plenty velocity layers. It has very little EQ processing so you can take advantage of the 7 output buses and mix it further. Samples were carefully mixed down to stereo files (drummer's perspective) and mapped. No fancy room mics or bleed mics. Just pure simplicity. I'm sure you will enjoy there drums. This kit comes in Stereo or Multi output buses. Activate all 7 buses in your DAW.

Ready to play and inspire you.
Easy to use GUI with volume control for each drum and cymbal.
VINATGE DNA is light on your computer and responsive.
You'll get a 201.0MB .ZIP file.
More products from 8900293357762485