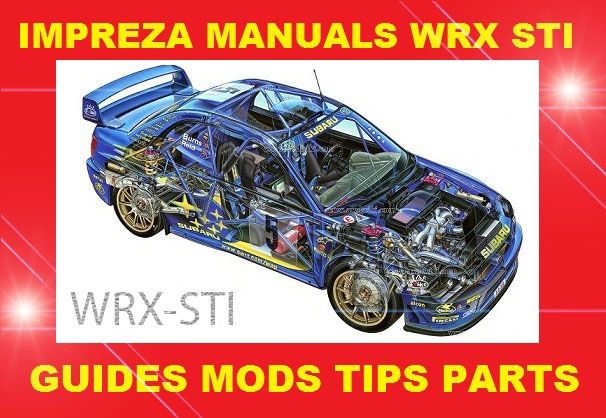 ►► Dedicated Download for Subaru Impreza WRX STi Guides, Mods, Tips & Manuals
"So much more than just a Service manual"
Dedicated download for Subaru Impreza owners contains Guides, Tips & Manuals.
This download Guide & Manuals covers models 2001 2013
MODIFICATION / GUIDES / TIPS / SERVICE / WORKSHOP / REPAIR / ELECTRICAL / / WIRING / MANUALS in one nice download.. (over 1.5GB the biggest so far!)
If you own a Subaru Impreza then this download Guide (for your computer) has been put together for you and is dedicated to
the Impreza only, Guides for doing mods and tips to keep your WRX / STi running including maintenance. A nice collection of guides by enthusiasts in the download.
from fitting brake conversion to upgrading, most guides have photos. All the guides are pdf format.
Also in the download is the service manuals for all models 2001 to 2013.
Plus lots more info on Impreza's like diagnostic info, Engine info, bulletins and mods.
The Guides / Service Manuals & Tips are all pdf format and all 79 are listed below:
Take a couple of Min's to have a read through them all ;-)
2001 2002 Service Manual
2002 2003 Service Manual
2004 Service Manual
2005 Service Manual
2006 Service Manual
2007 Service Manual
2008 Service Manual
2009 Service Manual
2011 Service Manual
2012 Service Manual
2013 Service Manual
Automatic Transmission (5AT) Manual
Automatic Transmission Diagnostics (5AT) Manual
Manual Transmission and Differential (6MT) Manual
Engine (H4DOTC) Manual
Engine H4SO Manual
2004 Service Bulletins
2005 Service Bulletins
2006 Service Bulletins
2007 Service Bulletins
Misc Service Bulletins
Subaru Trouble Code Info
Scantool
OBD Software usb quick start guide
OBD Software es5 quick start
OBD Software for Subaru Using Elmscan or similar 327 Cable
4EAT (Automatic Transmissions)
4EAT Phase II (Automatic Transmission)
Subaru Impreza Tuning Guide
60mm Gauges in 52mm Cluster Pod
Guide to Fitting Gauges
2012 Center console USB and AUX mod
08 Impreza Master Speaker guide
2008 impreza door speakers
ABS Toggle Switch
Adjustable headrest
Advanced Impreza Electrical Theory and Diagnosis
420 sti turbo info
450 STI_turbo info
Subaru ECU Diagrams 99 to 01
WRX STI turbo chargers info
Basic Impreza Electrical Theory
Boxer Engine Technical info
Brake Dust Shield removal
Intake Install Instructions
08 STI Silicone Inlet Pipe Installation Guide
TMCI Top Mount Intercooler Installation Guide
Impreza Brake Systems info
Cluster with seqential shift light
5-Spd Double Adjustable Short Shifter Install Instructions
6-Spd Double Adjustable Short Shifter Install Instructions
Fit a Boost Gauge
Fit Blow off Valve
Fitting a turbo exhaust
Fitting front 02 sensor
Fitting STI Top Mount Intercooler (TMIC) in a WRX
Fitting Front Brake pads
Impreza Fuel Injection & Engine Management
H6 Rear Brake Upgrade
Installing Lowering Springs
Key and Fob mod
Make a skid plate
On Board Diagnostics OBD II
Fitting Pink injectors on 02-03 WRX
Rear Reinforcement Bracket
Rear wheel bearing fitting
Replace instrument panel lights on 2000 - 2007
Replacing your clutch
Seat Belt Chime Fix
Spark Plug Replacement
Speaker Wiring Guide
Subaru Impreza 1993 to 2001 Parts List
Subaru Impreza 2002 Parts List
Subaru Impreza 2002-06 - Parts List
Supplemental Restraint System SRS info
Swapping Speakers Guide
Timing Belt and Water Pump Replacement
Transmission Bushings fitting
Turn off Hill Assist WRX 08-13
The Impreza Guide download is pdf based and the menu is driven like a web page (very easy), Pages can be printed out if you so wish.
Service Manuals 2001 2013 every year apart from 2010, Covers in great detail all you need to know in the service and repair of your Impreza.
Plus service bulletins and tech training manuals. So much info is contained within this download for all Impreza owners
The manual contains the following sections:
ENGINE
EMISSION CONTROL
ENGINE MANAGEMENT SYSTEM
FUEL DELIVERY SYSTEM
COOLING SYSTEM
MANIFOLD & EXHAUST SYSTEMS
CLUTCH
MANUAL GEARBOX
DRIVE SHAFTS
STEERING
SUSPENSION
BRAKES
RESTRAINT SYSTEMS
BODY
HEATING & VENTILATION
WIPERS & WASHERS
ELECTRICAL
INSTRUMENTS
Plus everything else about your Impreza
Parts manual with exploded views of every part of your Impreza from 1993 - 2006
This Download has been put together for Impreza owners, We hope the information will help you & your Impreza WRX or STI
All your Guides and manuals will come in one download that has been zipped up using winrar, YOU WILL NEED TO UNZIP TO VIEW THE FILE.
►►► If you don't have unzipping software you can download below
http://www.rarlab.com/download.htm
►►► If you don't know how to use winrar see this youtube video
http://www.youtube.com/watch?v=vzW3EjTnOKs
You'll get 1 file (1.4GB)
More products from Guides And Manuals - PDF DOWNLOAD WORKSHOP SERVICE REPAIR PARTS