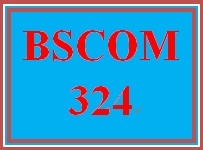 BSCOM 324 Week 2 Survey Development
Entire Course Link
https://zh.scribd.com/document/340327850/Uop-Tutorial
 BSCOM 324 Week 2 Survey Development 
Complete the following for this assignment:   
Create a free account with Survey Monkey.  
Using Survey Monkey and one of the research questions you developed in Week 1, develop a survey with 10 Likert-based questions that will address your research question. Be sure they are Likert-based questions.  
Submit the link to your survey and your research question to the Assignment Files tab.
You'll get a 177.0KB .DOC file.
More products from UopTutorials