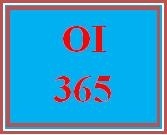 OI 365 Week 4 Intellectual Capital Valuation Worksheet
Entire Course Link
https://zh.scribd.com/document/340327850/Uop-Tutorial
 OI 365 Week 4 Intellectual Capital Valuation Worksheet 
Resource: Intellectual Capital Valuation Worksheet
Select one IC type from the organization used in your Week 1 Individual Assignment.
Complete the University of Phoenix Material: Intellectual Capital Valuation Worksheet.
Click the Assignment Files tab to submit your assignment. 
Intellectual Capital Valuation Worksheet 
There are many ways to value intellectual capital. The method can influence an organization and reflect its needs. 
Part 1 
Complete the following chart by identifying various valuation methods and the strengths and weaknesses associated with each.                                                                                                                                     
Valuation Method
Strengths
Weaknesses                    
Part 2 
Prepare a 700- to 1,050-word proposal or a three to four minute Video Pitch in your role as a Vice President of KM and IC.  You will pitch to the CEO of your chosen organization from Week 1 and unclude the following:    
A brief introduction explaining the importance of valuing an organization's IC  
Select a valuation method and analyze how the method could value the organization's IC  
Analyze the strengths and weaknesses of the chosen valuation method  
Explain the potential effect of selecting a less appropriate method  
Include the table as an addendum in the proposal or the Video Pitch
You'll get a 76.0KB .DOC file.