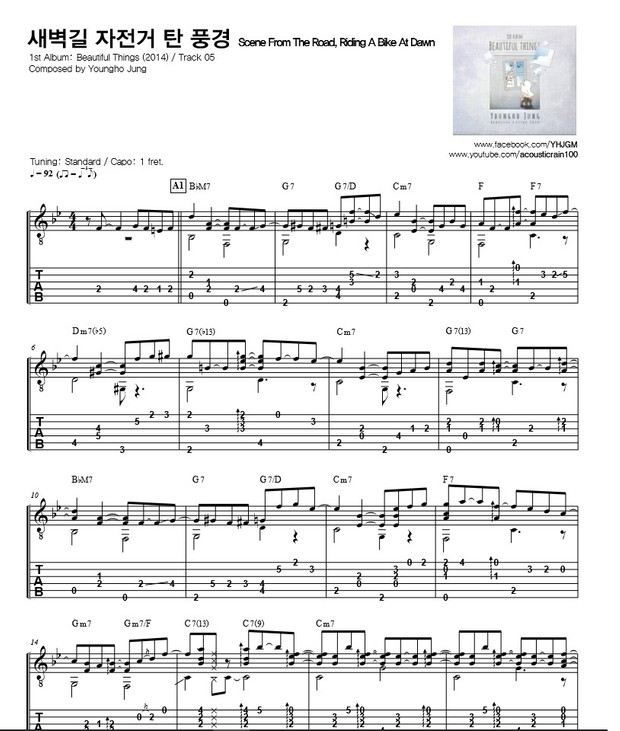 05 Scene From The Road, Riding A Bike At Dawn
새벽길 자전거 탄 풍경 Scene From The Road, Riding A Bike At Dawn

Album: Beautiful Things(2014)
Track: 5
Time: 04:19
Composer: Youngho Jung
Tuning: Standard, capo 1 fret. (Key: B♭ Major)
Record: Mic
Guitar: Goodall TROMC #4218(2005)

층간소음 문제로 집에서 기타연습을 할 수가 없어서 신림동의 개인 연습실을 빌려서 새벽 늦게까지 연습을 하게 되었습니다. 하지만 연습을 마치고 귀가하려면 차가 다 끊겨서 택시를 타야 했는데, 택시비가 만만치 않아서 자전거를 구입해서 타고 다니게 되었습니다. 새벽에 신림의 도림천에서 집이 있는 남구로까지 홀로 자전거를 타고 오면서 자전거 도로 주위로 흐르는 냇물과 맑은 공기, 나무들을 바라보며 몸은 지치고 힘들었지만 마음이 너무 편안하고 여유로워서 아, 이런게 행복이구나 하는 생각에 저도 모르게 입으로 멜로디를 흥얼거리다가 만들게 되었던 곡입니다.

As there had been noise complaint issues, I had not been able to play a guitar at home. So I had leased a practice room in Sillim-dong, practiced until it had become almost dawn. When I had finished a practice, the only way to go home had been to take a taxi because there had been no public transportations at that time. However, a taxi fare had been too high for me, so I had purchased a bicycle to commute. One day, when I had come back home riding a bicycle along the stream called Dorimcheon from Sillim to Namguro, I had seen a stream, fresh air, trees with a peaceful state of mind. I had been so tired, but my mind had become calm... I had thought that would be something called happiness. Then I had started humming a little melody, and that just became this piece.
You'll get 1 file (1.4MB)
More products from huks