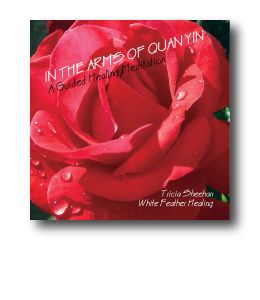 In The Arms of Quan Yin by Tricia Sheehan
Download a copy of Tricia Sheehans meditation 'In The Arms of Quan Yin' in MP3 format. The meditation is 45 minutes long and is 104MB in size. A sample meditation can be found on her website.
Quan Yin means - "One Who Sees and Hears the Cry from the Human World", she is recognised as a powerful protector throughout many cultures and traditions. For me she is a Powerful Spiritual Mother who seeks to guide, protect, love and support us, as in these times of recession and huge global change, we need more than ever to feel loved and nurtured. My experience with clients over the years has shown me that we struggle with self-love and compassion, very often finding the inner relationship with ourselves to be one of judgement and criticism. The aim of this guided healing meditation is to promote self-love and to nurture that very personal relationship we share only with ourselves.
When listening to this meditation it is important to sit or lie, with your eyes closed, in a quiet undisturbed place. Regular meditation can promote deep healing and positive change. As meditation alters your brainwaves do not listen while driving.
www.whitefeatherhealing.com
You'll get a 104.4MB .MP3 file.