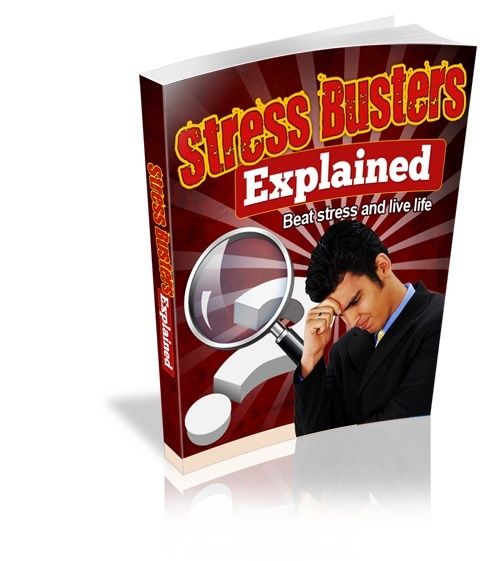 Stress Busters Explained
Quit stressing out and live longer!

Stress Could Be Taking Years Away From Your Life!

Learn How to Reduce and Manage Your Stress for Health and Longevity

Research has shown that chronic stress can make you sick, weaken your immune system, and shorten your lifespan by eroding your DNA. Because of this, managing and reducing your stress levels is the key to a healthier, happier and longer life. Though jokes about stress giving you gray hair and taking years off your life abound in our culture, it is no joke.

Those who live a life of stress and anxiety are reducing their lifespan moment by moment, month by month, day by day, year by year.

If you are one of those who experience a lot of stress, you need to act now and prevent any more damage to your biological system.


With Stress Busters, You Will Learn How to Minimize Your Stress


Stress Busters will provide you with the following information to help you master and defeat the negative impact of stress on your life:

The basics of stress resolution

Understanding who and what stresses you out

Developing an acceptance mindset

Practicing stress-reducing breathing exercises

Using reminders to relax your anxiety

Maintaining an "I will be calm" mentality

Taking advantage of affirmations to stay on course

The powerful benefits of reducing stress in your life

And much, much more ...


Stress Busters Provides You With the Secrets on How to Reduce and Eliminate Stress Within Your Own Being!


Order today and begin living a life of calm ...

ORDER NOW, and learn how to reduce and manage stress!

ORDER NOW, and discover how to find better health and more happiness!

ORDER NOW, and find out how to live longer with your family!


Your License:

[Yes] You may give away this eBook.
[Yes} You may resell this product.
[Yes] You sell/resell rights/master resell rights to this product.
[Yes] You may edit the squeeze/sales page.
You do NOT have Private Label Rights. You may NOT sell or give away Private Label Rights.
You may NOT re-title or edit the contents of this product.
YOU agree to handle any own customer support issues to this product.


Don't delay in getting our book, for your life could depend on making the right decision today. Each day of procrastination equals more unmanaged stress, a weaker immune system, and more erosion to your DNA. You can't buy back the lost moments, hours, days, weeks, months and years of your life, so don't give them up now by failing to act on this offer to restore your clam, improve your health, and extend your life.

The real question you must ask yourself is whether or not you really want to live out your life to its fullest. If so, you need to become that wise individual that acts instead of talks, that responds instead of procrastinates. The choice is yours and it is you that must decide if you want to live a long life of calm or not.

To a long, happy life,


P.S. You can begin forcing out that awful stress from your life today.

You'll get a 3.5MB .ZIP file.
More products from Smart Life Skills