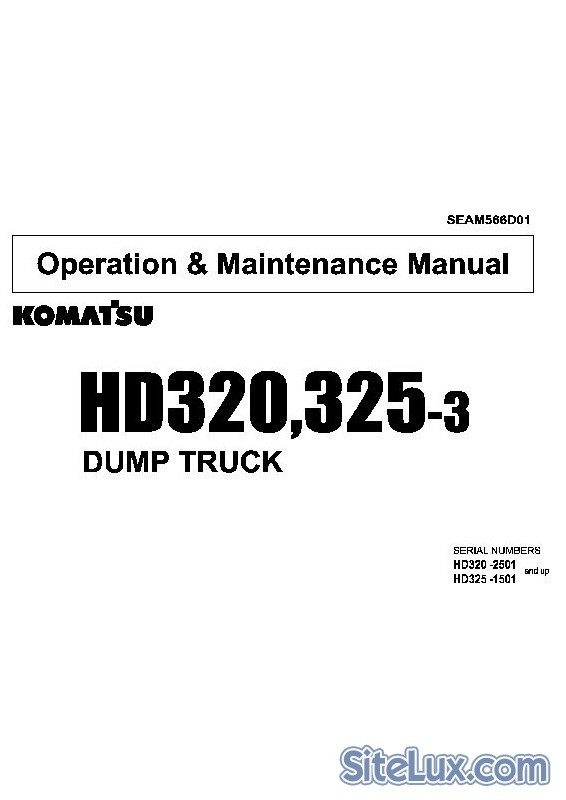 Komatsu HD320-3, HD325-3 Dump Truck Operation & Maintenance Manual - SEAM566D01
This manual PDF download describes procedures for operation, handling, lubrication, maintenance, checking, and adjustment for the Komatsu HD320-3 & HD325-3 Dump Truck. It will help the operator or anyone realize peak performance through effective, economical and safe machine operation and maintenance.
APPLICABLE MODELS :
Komatsu HD320-3 Dump Truck
Serial Numbers : HD320-2501 and up
Komatsu HD325-3 Dump Truck
Serial Numbers : HD325-1501 and up
TABLE OF CONTENTS :
COVER
FOREWORD
BREAKING IN YOUR NEW MACHINE
CONTENTS
SAFETY HINTS
GENERAL LOCATIONS
OPERATOR'S COMPARTMENT
INSTRUMENTS AND CONTROLS
CHECK BEFORE STARTING
OPERATING YOUR MACHINE
INSTRUCTIONS FOR TOWING THE TRUCK
PERIODIC MAINTENANCE
- PRECAUTIONS FOR MAINTENANCE
- MAINTENANCE TABLE
- EVERY 50 HOURS SERVICE
- EVERY 250 HOURS SERVICE
- EVERY 500 HOURS SERVICE
- EVERY 1000 HOURS SERVICE
- EVERY 2000 HOURS SERVICE
- EVERY 4000 HOURS SERVICE
- WHEN REQUIRED
ADJUSTMENT
WEAR PARTS
TROUBLE SHOOTING GUIDE
COLD WEATHER OPERATION
STORAGE
SERVICE METER
MACHINE AND ENGINE SERIAL NUMBERS
SPECIFICATIONS
OPTIONAL PARTS
FUEL AND LUBRICANTS
MANUAL SPECIFICATION :
File Format : PDF
Language : English
Printable : Yes
Searchable : Yes
Bookmarked : Yes
Product Code : SEAM566D01
Total Pages : 159
This page sometime can be found use following keyword : service manual, repair manual, workshop manual, technical manual, owner manual, operating manual, maintenance manual, parts manual. Please make sure you read and understand the title of this manual before decided to buy.
More Info :
https://www.sitelux.com
You'll get 1 file (5.3MB)