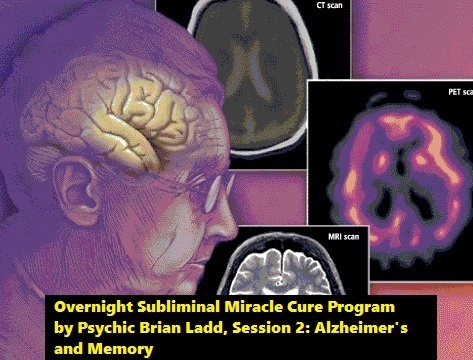 Alzheimer's and Memory Loss, Overnight Miracle Cures by the Worlds Psychic Top Dreamer, Brian Ladd 2
Subliminal Session 2: 
Memory Loss, Dementia and Alzheimer's Disease. This very special subliminal audio session was developed specifically for people suffering from memory loss conditions labeled as Dementia or Alzheimer's, it also my be effective for people with short term memory loss issues like losing your car keys.
This healing program, session 2, contains 29 separate audio tracks and includes over 100 individual 'memory trigger events' with the majority of input coming directly from my personal dream journal from past 10 years. 
All subliminal affirmations and suggestions are done by me...in my own voice...sorry :) 
I also want to stress this IS NOT a simple subliminal recording on a loop, there are hundreds of 'very special' effects embedded throughout the program...and cannot be found anywhere else...yet. 
Any doubts, just look at the Spirograph. 
examples of what's encoded in this 8 hour mp3: 


SETI recordings including the 'wow' recording on August 15, 1977. 

Radiation noise taken from suspected worm holes in The Milky Way Galaxy. 

Celestial noise taken from specific locations outside the Milky Way (as record in my lucid dreaming). 

Specific dream sketches converted directly to sound using the HyperMammut Algorithm. 

specifically selected melodies designed to re-awaken broken neuron Neurological Connections. 

Subliminal messages written and voiced by me in many layers and frequency rages. 

Ultrasound, pulsation and steady tones designed to re-awaken the brain. 

Sounds from our planet, above and below water. 
And over 100 more inputs all designed to help you remember... 
Headphones are desired but not mandatory, please play this session only at bedtime, as many of the effects will cause drowsiness 
Please, please if you know someone who could benefit from this, please share this with them.
To learn more about me, my family and my online work since 2005, visit one of my sites at:
http://brianladd.org
http://briansdreams.com
http://briansprediction.com
or on your phone @
http://briansprediction.mobi
You'll get a 459.4MB .MP3 file.
More products from Overnight Subliminal Miracle Cures by Brian Ladd