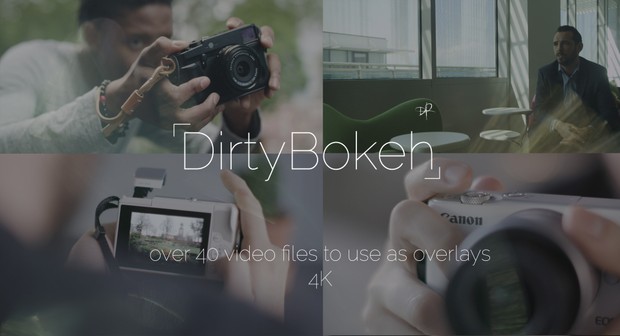 Dirty Bokeh - Lens Collection (overlays)
was £9.99 NOW only £4.99 

We all love creating great imagery, adding our own styles and techniques to create stylised footage.

But sometimes, a client may not want that style... so to shoot that way in camera can be risky. Or you may have chosen to not shoot that way on set and wish you had some cool flares or dirty bokeh.

This is why I created these overlays, so we can use them for professional work by simply dragging your preferred file over and simply making the file overlay to screen.
---

I've created the files as UHD 3840 x 2160 x.264 Files.

Some files have movement and some are static, which work well for those locked off interview style shots, that need just a little sexiness for those corporate work pieces.

They obviously also work great for your Short films & Weddings or Personal Work.

Files work best when setting your transfer mode to Screen


---

Whats included in the pack :
over 50 clips in UHD. 25fps . x.264
Clips vary between 5 sec - 10 sec
Works with Adobe Premiere Pro, Final Cut X, Avid, After Effects, Davinci Resolve
UHD Download size: 8MB
Easy to use files that works in any Program

Files Also Created with Vintage Lenses, Modern Lenses & Anamorphic Filters  

Download your files instantly & start creating 'Dirty Bokeh'
You'll get 1 file (703.1MB)
More products from Daniel John Peters