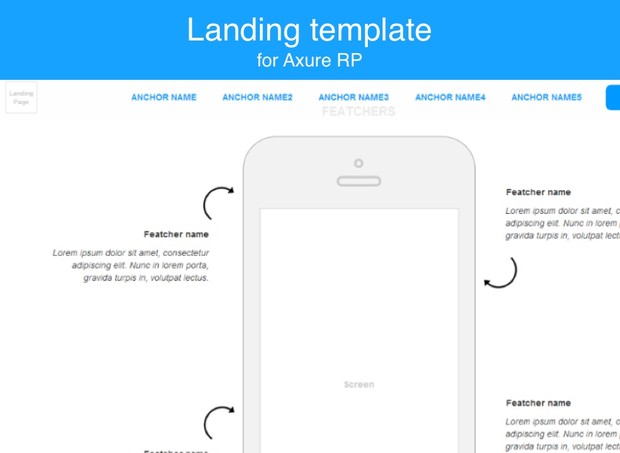 Axure template / Landing
Live demo:
http://jc4pbn.axshare.com/#p=landing
The template that will help you to create nice prototype for Landing page. It consists of almoust all elements which are used at this type of sites now.
TEMPLATE FEACHERS:
Responsive design
Using the new features in Axure we created 3 resolutions for the template:
- 1140, wide enough resolution for placing products, filters, and other content
- 768 resolution for tablets. This version retains all features of desktop version
- 320, permission for mobile devices. Please note that practically all features are available in this resolution. It is not just for decoration, it is a fully functional version
Don't forget to test this function in demo mode, simply turn the browser window to the desired size.
A huge number of elements
We seriously approached to the new version of Lending, the previous version contains 9 modules, the new version – 24 module!Landing version 2.0 contains so many elements that inside 320 resolution we had some items to place in 2 columns, so long got a
page.Be
sure to check how it works in Demo
Universality
Each of the 24 modules are self-contained and universal. You can use it as a Landing, and for any other web site. In this template you will find:- features- reviews- price plans- contacts, and many more
Modernity
New version of Lending contains a lot of trendy, popular solution today. The modules that are in this template will help you to create a new, modern page for:
- mobile applications
- page of the service or product
- web studio
- companies and more
Axemplate - Best Axure templates and widget libraries.
With:
- FREE DEMO
- AXURE RP 7 ADAPTED
- RESPONSIVE DESIGN
- ADVANCED DYNAMIC
- MASTERS USAGE
- FREE NEW VERSIONS
Visit our wesite:
http://www.axemplate.com/
You'll get 1 file (1.6MB)
More products from Axemplate