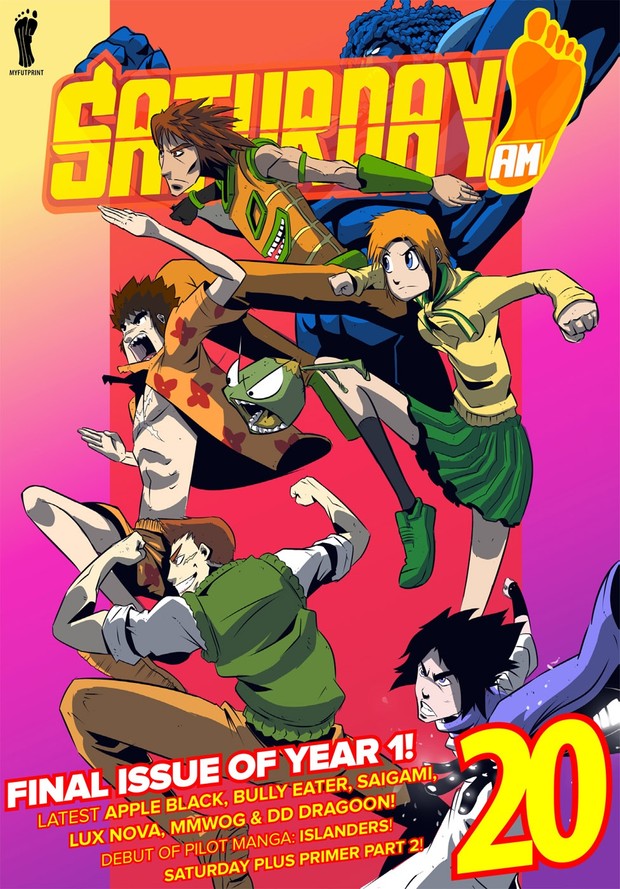 Saturday AM #20
THIS.

IS.

IT!!

Saturday AM #20 a YEAR IN THE MAKING.

When we started this effort--it was literally just 5 guys, Frederick L. Jones (MMWOG); Raymond Brown (BULLY EATER); Wally Nguyen (COMATOSE); Eric Michael Ella (POSBOTS) and Whyt Manga (APPLE BLACK) and we released our first issue as a BETA for free.

Now, less than a year later, we've released 20 issues of amazing original content from some of the hottest webcomic talent online.

This is an incredibly humbling and special moment as many of you have been with us from the beginning.

Few webcomic creators EVER remain this consistent and that we've done it is something we take as a testament to ALL of you and our own team's dedication.

In this (OUR BIGGEST ISSUE EVER):

*Apple Black - the conclusion of the first arc
*Saigami
*Bully Eater
*MMWOG
*Islanders - debut of PILOT manga runner-up, Leonardo Massip
*DD Dragoon - the second chapter of PILOT manga winner, David "Artbook" Johnson
*Mythallica Lux Nova - the latest chapter to one of the best webcomic creators working today
*Interview w/ MOTOE HOUS (FREE MUSIC DOWNLOADS)
*Breakdown of SATURDAY PLUS
*Contest for WHERE'S FREDZO
*1st Glimpse of APPLE BLACK VOL. 1

This is it folks but not even close to being "IT". Read the Letter from the Publisher for a breakdown on our future plans!

Thanks for your work!
You'll get 1 file (146.3MB)
More products from Saturday AM