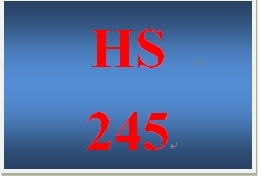 HS 245 Week 5 You Can Improve Your Life and Opportunity is Real!
Entire Course Link
https://zh.scribd.com/document/343514565/Uop-Tutorial
HS 245 Week 5 You Can Improve Your Life and Opportunity is Real!
Resource: University Library ProQuest Social Sciences
Imagine you have an opportunity placed in front of you but it is risky. You want to make better decisions and truly live your best life now. What would that look like? Do you believe the old adage, "opportunity knocks once" or, "opportunity isn't just going to fall in your lap". 
Read the articles located in this week's Electronic Reserve Readings. 
7 Ways to Better your Life Starting Today
Better Life News: How to be a more powerful person
How to Make Your Life Easier
How to Make Every Minute Work Better for You
Your Life Isn't An Accident: A Tip in How to Find Your Path
How to make sure Facebook does not ruin your life
How to Deal When Your Life Explodes
Reinvention: How to make the rest of your life the best of your life
Decide to live your ideal life
Decide which article to take a deeper dive into the content. 
Write a 1,050- to 1,400- word essay detailing the findings of the abstracts, and the articles. What is the overarching theme of each article? How can you make positive changes in your life and the lives of other people? Can your work as a human service professional influence others? What can you do when your life seems to fall apart? 
Submit to the Assignments Files tab.
You'll get a 37.5KB .DOC file.