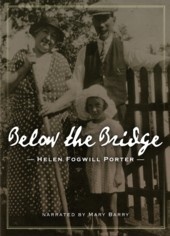 Below the Bridge (Helen Porter) unabridged memoir audiobook
Below the Bridge by Helen Porter
Narrated by Mary Barry
Unabridged memoir audiobook

Listening Time: Approx. 6 hours
13-digit ISBN: 978-0-9782065-2-9

Below the Bridge is an evocative memoir of growing up on the south side of St. John's, Newfoundland, in the 1930s and '40s. With a poet's eye for the telling detail and a novelist's flair for dialogue, Porter deftly evokes the lost community of her childhood—lost to time and the bulldozers of "progress." This is not so much a memoir or a community history as a conjuring act in which the past is brilliantly captured and brought into the context of the present.

REVIEWS

Barry's well-honed skills . . . are obvious and welcome from the opening notes. Her vibrancy rings truer than a bell, as words wistfully wind and weave their way through a myriad of the mind's many frequencies. Like the seasoned musician who understands that music exists in the spaces between the notes, the chanteuse extraordinaire knows just when to lean into the microphone and when to lay back. . . . Once the curtain has fallen, listeners will be hard pressed to explain where they have been during the previous hours.
— Atlantic Books Today


This Canadian audiobook recording brought to you by Rattling Books of Newfoundland and Labrador.

Listen, a way to read more.
You'll get 1 file (160.5MB)
More products from Rattling Books audiobooks