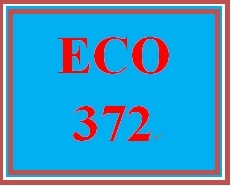 ECO 372 Week 1 participation Principles of Macroeconomics, Ch. 9: Application — International Trade
Entire Course Link
https://zh.scribd.com/document/340327850/Uop-Tutorial
ECO 372 Week 1 participation Principles of Macroeconomics, Ch. 9: Application — International Trade 
Consider the following as you read:   
Consider what the domestic price that prevails without international trade tells us about a nation's comparative advantage.  
Consider how to define what a tariff is and its economic effects.  
Consider the difference between the unilateral and multilateral approaches to achieving free trade. Be prepared to give an example of each. 
You'll get a 28.5KB .DOC file.
More products from UopTutorials